latest news from liz &raquo
Yesterday, I spoke in a Westminster Hall Debate in Parliament on 'Winterbourne View Hospital and the Transforming Care Programme'
On the 31st May 2011 a BBC Panorama documentary revealed appalling abuse of people with a learning disability and/or autism at the Winterbourne View Assessment and Treatment Unit (ATU).
Footage of patients being repeatedly assaulted and mocked by staff shocked people across the country. In response the Government promised to take people with a learning disability and/or autism out of ATUs and instead support them to live in the community.
10 years of missed targets later and there are still 2,040 people with a learning disability and/or autism living in ATUs that are completely inappropriate for their needs. The decade of failure to deliver on promises made after Winterboune View is the worst I've seen in 25 years of working in health and social care.
You can read my full speech here, or watch it here.
One of the biggest issues I hear about as an MP is the quality of private rented homes. I've heard stories of people struggling to get repairs done by private landlords, living with damp and mould, and being exposed to unsafe conditions. This isn't good enough – private renters deserve better.
On Monday, Generation Rent are launching the first ever national Renters' Rights Awareness Week for private renters, and are hosting seven free online webinars, offering advice and information to private renters.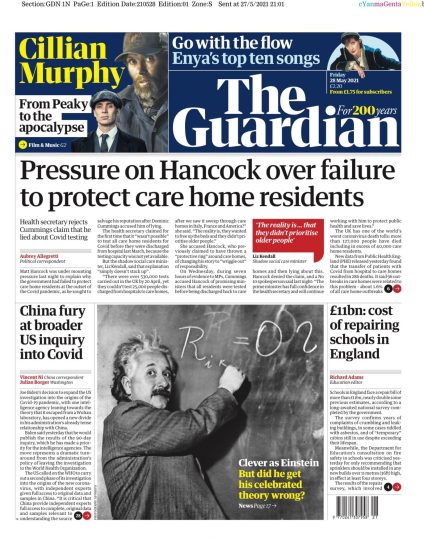 Last week, Matt Hancock claimed it 'wasn't possible' to test all care home residents for Covid-19 before they were discharged from hospital. However, there were over 530,000 tests carried out in the UK by 20 April 2020. To compare, there were 25,000 people discharged from hospitals to care homes. By this point, we had already seen the virus sweep through care homes in places like Italy, France and America.
The reality is, the Government prioritised freeing up beds over protecting older people from the virus. The Health Secretary needs to get his story straight and stop wiggling out of responsibility.
Today I spoke at the Health Foundation's webinar, "Can politicians 'get social care done?'" It was a pleasure to discuss this issue alongside Charles Tallack, Sarah Neville, and Damian Green MP.
Right now, our care system is not prepared for our ageing population. Average life expectancy has increased dramatically since the welfare and healthcare systems were built. One in four babies born today will live to over 100. I believe that social care has to be an absolute priority if we are to build back a better Britain.
If we want to make change, we need a real positive vision for social care. This vision shouldn't just be about fixing the current, broken system of social care – it needs to transform services for users and families.
I spoke about Labour's vision for social care to the Association of Directors of Adult Social Services last month – you can read more online.
New figures published yesterday by the End Child Poverty Coalition show that there are over 30,000 children in Leicester living below the poverty line. That's 6,000 more than there were in 2015. Leicester saw the biggest increase in child poverty in the East Midlands, and one of the highest in the country overall.
This is an appalling indictment of the Government over the last decade. Even before the pandemic hit, we were experiencing high levels of child poverty in the city. Since then, 2,500 more children in Leicester are claiming free school meals, the number of people claiming Universal Credit has doubled, and there has been a 300% increase in the number of people using foodbanks.
Child poverty does not just affect children while they're growing up, it impacts them throughout their lives and affects us all. If children find it hard to study and work because they've gone to bed hungry, or live in overcrowded housing that makes it difficult for them to complete their homework, it makes it harder for them to achieve their full potential. And if they cannot achieve their full potential, then our country as a whole misses out on their talent, throughout their lives.
I chair Feeding Leicester, a partnership that aims to end hunger in the city, and we are doing our best – but we cannot reach everyone who needs help. We cannot build back a better country if children are still growing up in poverty. The Government needs to take action to tackle this serious issue.