latest news from liz &raquo
In today's hugely important Brexit debate I gave a speech on why I oppose Boris Johnson's deal.
I voted for an amendment to make sure MPs see the details of what is being proposed set out in legislation, because I do not trust the Prime Minister to stick to his word. The amendment passed which means the Withdrawal Bill will be debated in Parliament next week.
As I have said before, now that we know what Brexit actually looks like – which is very different to what people were promised in the Referendum – we should give the public the final say on whether they want to go ahead or stick with our current deal and remain within the EU.
You can watch my speech here.
I recently visited New College Leicester and was delighted to open their amazing new tennis & netball courts with Former England Rugby player, Rory Underwood MBE, and Police and Crime Commissioner, Lord Willy Bach.
The courts sit alongside other fantastic facilities and are available for use by local primary schools as well as the wider community.
I think encouraging and supporting all our young people to take part in sport is really important – for their confidence, aspirations and teamwork as well as their health and fitness. Thank you to Sport England and England Netball for helping to make this happen.
Today I met with Michael Gove to raise very serious concerns about the impact of a no-deal Brexit on food poverty in Leicester. Watch my video below:
It is a disgrace that 40,000 children in Leicester are now living in poverty, including almost 12,000 children here in Leicester West. That's 40% of all children in our city.
Today I held a debate in Parliament demanding action from the Tories to end this scandal, including scrapping Universal Credit, tackling low pay and insecure work and ending Britain's housing crisis.
You can watch the full debate here: https://parliamentlive.tv/…/70d214c9-be29-44fd-96eb-3fce521…
As chair of Feeding Leicester, which is working to end food poverty in the city, I am especially worried that a no-deal Brexit will make the already unacceptably high levels of poverty we face even worse.
Our foodbanks have warned that no-deal could lead to big increases in demand at the same time as supply is reduced, because there will be less surplus food available from supermarkets.
Leicester's Emergency Food partnership is already distributing 16 tonnes of food a month. We could have to find another 8 tonnes in the event of no-deal – yet we have no funds whatsoever to pay for this.
It is a disgrace that the Tories are even contemplating a no-deal Brexit that would make the poorest people in society even poorer.
That is why we must focus all our efforts on getting the Tories out and electing a Labour government to make the changes our country desperately needs.
You can watch two clips from the debate below.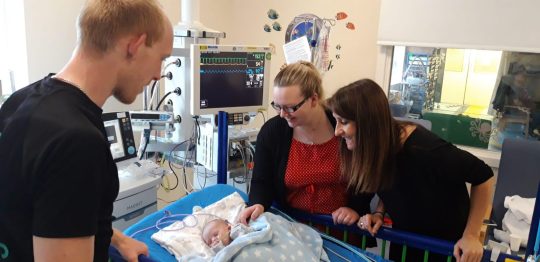 It's almost 2 years since we won our campaign to save the children's heart surgery unit at Glenfield Hospital. I visited the service again today to talk to NHS staff and patients, and to hear about the improvements that are being made. I am particularly proud that the unit has some of the very best survival rates in the country, and that we are doing more operations than ever before.
You can watch my video here.