latest news from liz &raquo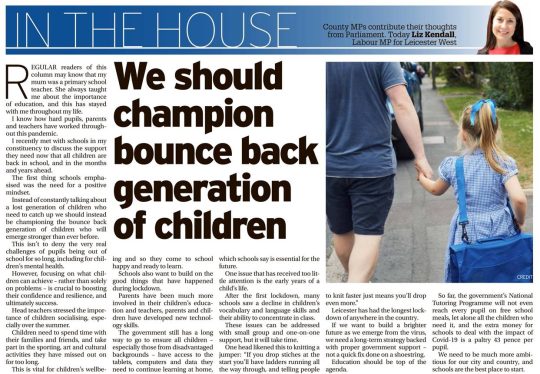 In this month's Leicester Mercury column, I talk how we must build a brighter future for our children as we emerge from this pandemic. Education must be top of the agenda. Right now, the Government's National Tutoring Programme won't even reach every pupil on Free School Meals, and the extra money for schools to deal with the impact of Covid-19 is a paltry 43 pence per pupil.
Leicester has had the longest lockdown of anywhere in the country. If we want to build a brighter future as we emerge from the virus, we need a long-term strategy backed with proper Government support – not a quick fix done on a shoestring.
I appeared on Sky News yesterday to reflect on one year since the first national lockdown was called. As we emerge from this pandemic, we need to look at how we can build a stronger and fairer economy. This means tackling important issues like poverty, inequality, and poor housing – all of which have been made worse by coronavirus.
This lockdown has also made us take a step back to see what matters most – the relationships we have that make us human. Let's not forget this as we move into the next few months and years ahead.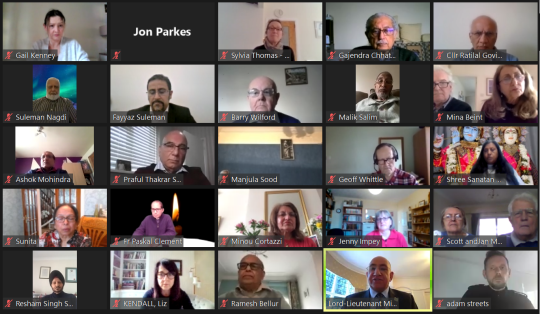 This evening I joined Leicester Council of Faiths, faith & civic leaders from across the city, to remember all those who've lost their lives during Covid-19.
As we mark one year since the start of the first lockdown I think of all of those who have lost their loved ones and I reflect, both as a MP and as a member of a family, on what we have all been through.
Leicester has been hit especially hard by this virus as our poverty and inequality have made us vulnerable, but together in addressing these problems we will prevail & build a better future for us all.
Yesterday I appeared on BBC East Midlands Today to talk about the Census this weekend, and how it is a fantastic opportunity to understand the scale of unpaid care being provided in Leicester.
The Census is important as the results will help organisations, including local authorities and charities, to make planning and funding decisions for public services in Leicester and across the country.
It is so important to identify those who are helping to look after their elderly or disabled relatives, as currently too many unpaid carers are missing out on the information and support they need.
A Census letter will be sent to every household, and the Census survey can then be completed online, with paper survey forms also available.
I recently spoke in a Westminster Hall Debate to mark 'World Social Work Day 2021'. I thanked the 100,000 social workers in the UK, including the 320 in Leicester, for their hard work, passion and commitment to supporting people in our communities.
Social workers have faced huge additional pressures during the pandemic which have added to the challenges brought about by a decade of cuts to council budgets totalling £8 billion. The Government must better support social workers and the people they support. I talked about 3 important ways it can do this.
First, the Government must act to tackle the disgraceful rates of poverty in our country which mean a staggering 40% of children in parts of Leicester West are growing up poor. We know that most parents in poverty are doing their very best, but for those who are already struggling, poverty can make things so much harder.
Second, the Government must finally act on the unacceptable level of people with learning disabilities and autism living in hospital settings due to a lack of community care.
Finally, over 18 months since he promised he had a plan for fixing adult social care, the PM must now bring forward his proposals for social care reform.
Social workers will know all too well the impact of the Government's failures in each of these areas. They deserve better.