latest news from liz &raquo
This week, we discovered that only 69% of care home staff in England have been vaccinated against coronavirus. In London, this is as low as 52%. This is incredibly worrying.
We need a clear strategy from the Government, that addresses lies and misinformation about the vaccine. We also need a plan to increase take-up among key groups. This will save not only the lives of care staff, but those they look after too.
I asked the Secretary of State about these figures at Health and Social Care questions. Watch my question and the response above.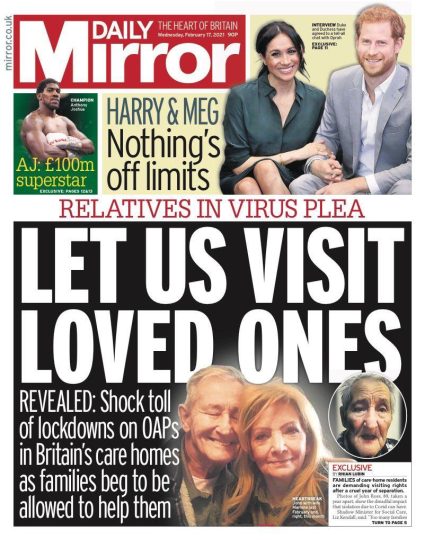 Labour has been calling for care home visits to resume for months. I wrote to Matt Hancock last June asking for families to be treated as 'key workers', with the same testing and PPE as staff. Now, we are almost a year into this pandemic, and blanket bans on care home visits are still in place. These bans have caused immense pain and sorrow for families, and harmed the health of their loved ones.
Care home residents are fading fast. Families cannot wait any longer to be reunited with their relatives. The Government must support calls to enshrine the right to family visits in law, and outline their plans to get family visits to start again.
Read the full story in the Daily Mirror.
Today, I spoke at the 'It's Our Community' Conference, organised by the Yorkshire Socialist Health Association. It brought together providers, users, families and voluntary groups across Sheffield to discuss the need to transform social care and support for disabled adults in particular. I spoke about the prospects for the future, and how we can achieve them.
I believe that this pandemic has showed exactly why we need social care reform. We need a real transformation backed up with proper funding, as well as an immediate cash injection.
Any changes to social care must to prioritise prevention and early intervention. People using social care should also have a say over how it's delivered, and we must make sure that those using social care can live the lives they want to lead.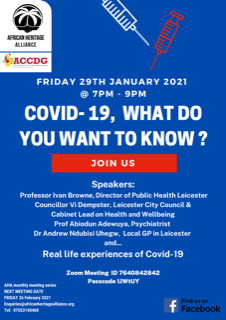 In January I joined the Director of Public Health, Ivan Browne and others at a meeting of the African Heritage Alliance to discuss the vaccine roll out in Leicester.
When taking age into account analysis shows that, Black people are more than 4 times more likely to die from COVID-19 than white people. However, 72% of black people in the UK are hesitant about having the jab.
It is vitally important to dispel myths and misinformation about the vaccine and I encourage everyone to get their vaccine when they are offered.
I appeared on Peston to discuss the latest announcements from the Government. In particular, the Government have recently announced an additional £3.5bn to remove cladding from high rise buildings over 18m tall, following the disaster at Grenfell in 2017.
This has been sold as an 'exceptional intervention' by the Housing Secretary – but in reality, this simply isn't good enough. Since campaigners started calling for dangerous cladding to be removed from buildings, the Government have said 17 times that leaseholders would not have to pay a penny towards the removal – but they broke this promise.
Anyone living in buildings under 18m tall with dangerous cladding are being asked to pay towards its removal.
Robert Jenrick is out of touch with most people's lives – the Government must revisit these proposals and make sure leaseholders are not left out of pocket.