latest news from liz &raquo
I was honoured to have been invited to chair the Feeding Leicester Steering Group. Feeding Leicester is a really important project that will raise awareness of food poverty throughout the city and find ways to make sure everyone can access healthy and affordable food.
Lots of local organisations are involved in the project including De Montfort University, the City Council, Feeding Britain, Action Homeless, B-Inspired and many more.
Over the coming months we'll be working together to find new ways to support local people who are struggling to make ends meet.
As part of the Feeding Leicester project we have also been awarded additional funding to expand the holiday hunger programme. This means that this year over 22,000 meals will be given out to children from right across the city over the summer holidays.
I am proud to be part of this project and I look forward to updating you on our work over the months ahead.
Leicester is a world leader in space research and engineering. We have specialists working with NASA and partners around the world, while our new Space Park is set to create 3,000 jobs. So on 18 July I asked the Universities Minister how the Government would be addressing the free movement of EU scientists during Brexit negotiations and what he would be doing to protect Airbus jobs in Leicester directly linked to the EU's Galileo satellite programme.
I was a guest on the BBC's East Midlands Sunday Politics on 15 July. On the show, I discussed how important it is for businesses in our region to get greater certainty over Brexit. East Midlands businesses have said the Government's Chequers Brexit plan isn't good enough because it lacks answers on crucial areas like VAT, the movement of staff and future controls over goods at borders. Food manufacturers that I've spoken to in Leicester need to know how they will import and export products in the future if they are going to continue to expand.
You can watch the show here.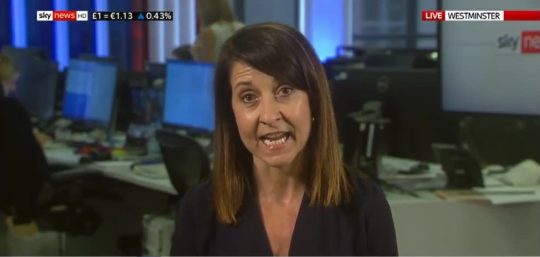 On 10 July, I was interviewed by Sky News about the Government's Chequers Brexit plan. This plan is simply not good enough. Manufacturers say they don't like it because it will be costly, complex and bureaucratic. It will be bad for Britain because it doesn't include the vital services sector, which make up 80% of our economy. You can watch the interview here.
On 10 July I met a young constituent in Parliament who is living with HIV to discuss the importance of improving public awareness and treatment in the UK. It was really inspiring to talk to them about the challenges they had overcome and the action they are taking to change people's attitudes around the world. I would urge people to take an HIV test at sites such as Leicestershire Aids Support Service, which offers a confidential and free service. I recently took an HIV test to support National HIV Testing Week.
You can read more about the work of Children's HIV Association here, and more about Leicestershire Aids Support Service here.