latest news from liz &raquo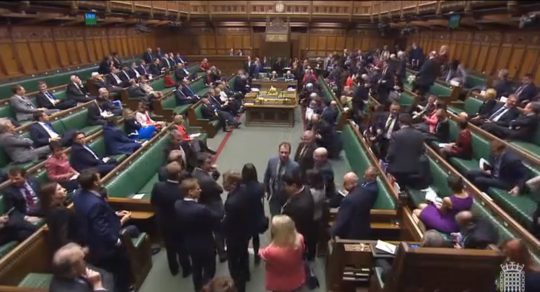 On Wednesday 18th October I voted to pause the introduction of Universal Credit until serious problems with the new benefits system are fixed. One in four new claimants on the programme are not receiving their first payment within the six week deadline, meaning thousands of families are being driven into debt and face eviction. It was disgraceful that Conservative MPs did not even vote on the motion, despite the huge damage Universal Credit is causing to people's lives. I will carry on fighting to make sure the system is fixed and claimants receive the support they need.
I was really pleased to join constituent Liz Gibbs from New Parks at the Young Builder of the Year Awards 2017, where she was highly commended in the 18/24 year age category. I am enormously proud of Liz. Her success is a huge achievement, especially because of all the personal difficulties she has had to overcome.
While she was studying for her Level 1 Diploma, Liz's mother sadly passed away. Alongside coping with serious emotional stress, Liz had to deal with being unemployed and household bills she could not afford. She later signed on a painting and decorating apprenticeship at Redrow Homes. Liz has gone on to complete her level 2 qualification and is approaching the end of level 3, with a long term plan to eventually run her own business. She clearly has a very bright future ahead of her.
I am determined to do all I can to help Liz and other young apprentices build a better life for themselves, and a better future for our country.
On Sunday 15th October I was a guest on BBC Radio 4's Westminster Hour.
On the show I discussed why I think public sector workers need a real terms pay rise, the importance of Brexit negotiators securing a transition period as Britain leaves the EU, and why the Government needs to pause its rollout of Universal Credit until serious problems with the new benefits system are fixed.
You can listen to the show here.
On Wednesday 11th September I took part in a Brexit debate on Adam Boulton's All Out Politics show on Sky News.
The Government urgently needs to make progress on the negotiations or the UK risks crashing out without a deal, which would undermine the future of UK citizens living abroad and EU citizens in the UK while hitting businesses with tariffs and red tape.
Watch a clip of the show here.
Following a public meeting to discuss smells from the Cofresh factory I recently received an update from Mr Priyesh Patel, the Managing Director of Cofresh, regarding their plans to address the problem. I have been told that following the receipt of an odour monitoring report after the public meeting, Cofresh have been advised to upgrade their grease filters further, work that has been "extensive".
In addition to the upgraded filters, Mr Patel has said Cofresh are also installing a Dry Vapour System which is designed to ionise the air after the filter. However, I have been told the technology is very new, and that trials will begin as soon as the ducting has been installed.
Mr Patel has also requested that if there are any further problems with the smell after 14th September 2017 that you call Leicester City Council as well as Cofresh's customer service line on 07751 981 607.
I will continue to keep my constituents up to date with any further developments as I am made aware.