latest news from liz &raquo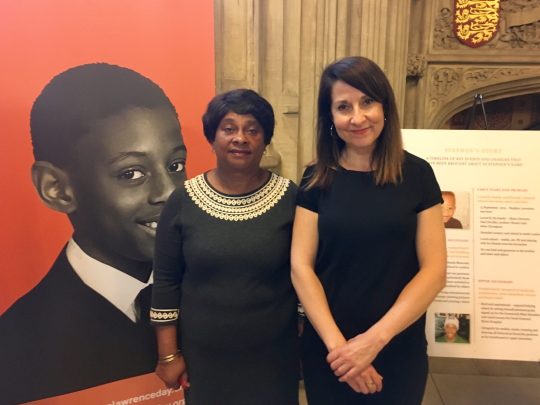 On 20 May, I joined Doreen Lawrence at the launch of the inaugural Stephen Lawrence Day in Parliament. This annual day of remembrance aims to engage young people in Stephen's story, with a central theme of 'Live Our Best Life'. You can read more about Stephen Lawrence Day here.
Leicester's De Montfort University is the home of the Stephen Lawrence Research Centre, which is curating the Stephen Lawrence Archive and working on research into areas including the histories of BAME communities in the UK and the psychology of racial violence. I would encourage all schools to visit the centre and use the guides produced by the Stephen Lawrence Charitable Trust on incorporating Stephen's story into lessons and assemblies.
You can read more about the Stephen Lawrence Research Centre here.
I have today, Wednesday, called on the Government to take urgent action after new figures were released that show over 40 per cent of children in Leicester are growing up in poverty – which is a rise of almost three per cent in the last year. Here in Leicester West we have over 11,600 children living in poverty.
These shameful figures lay bare this Government's failure to tackle child poverty, harming their life chances and our country's future success.
Children living in poverty are more likely to start school months behind children from better off backgrounds. They are also less likely to do well at school, go onto further education, earn the same salaries as their better off peers and therefore find a way out of the poverty trap.
Poverty doesn't just affect families on benefits, it's also working parents who are increasingly finding themselves and their children trapped in poverty. The shambolic introduction of Universal Credit and the rise in zero hours contacts alongside increasing rents and the rising cost of living mean more and more families across Leicester are struggling.
I believe that no child should be growing up in poverty. The Government must wake up to this crisis and take urgent action to ensure every child has an equal chance in life.
Over recent months I have been supporting a number of my constituents who are part of the Windrush Generation. The Government's treatment of commonwealth citizens who have lived in the UK for decades has been appalling and some of my constituents have faced difficulties keeping their jobs and their homes and haven't been able to see family or friends who live abroad. Many of them have had to go through a terrible ordeal just to prove they have the right to live and work here.
One of my constituents, Mr Espedy Alvester Thomas, arrived in the UK from Jamaica in the early 1950s. Since then he has worked and raised a family in the UK, and held a British passport. However, when he tried to renew his passport, the application was rejected. Without a passport Mr Thomas has been unable to visit his family in Jamaica for over 20 years.
Mr Thomas came to my office for help and when it was taking much longer than it should to resolve his case, I raised it with the Home Secretary who promised to look into it.
I am absolutely thrilled when Mr Thomas told me last week that he has finally received his certificate of naturalisation and can now apply to get his passport back and visit his family!
However, I won't stop until he finally gets compensation he deserves for what he has had to go through.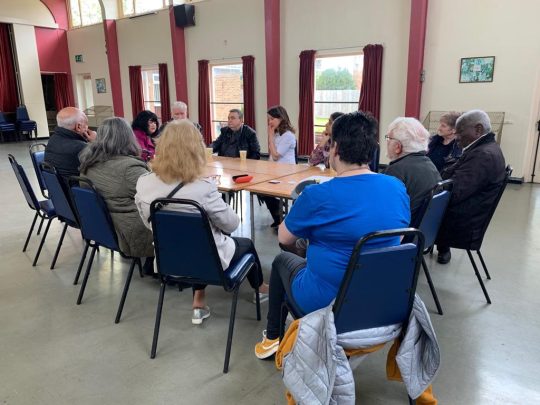 Last Friday, 10th May, I was in the Stocking Farm area of Leicester West for a coffee morning with local residents. We had a really good discussion about the impact cuts to Leicester City Council's budget has had on local services, how we can improve social housing and the local area, the effects of antisocial behaviour on our local communities and the Windrush scandal.
I'm holding a series of coffee mornings across the constituency where people can come and chat to me and their local councillors about any issues or concerns they may have about what's happening locally or nationally. Over the coming weeks I'll be holding more coffee mornings right across the constituency, so look out for your invitation in the post, or contact my office on 0116 204 4980 if you'd like to come along!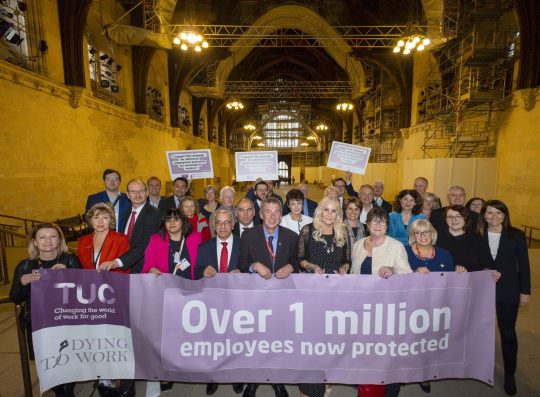 I have long supported the GMB and TUC's Dying to Work campaign to make sure employees with a terminal illness can't be dismissed because of their condition.
I was proud to join MPs in Parliament to celebrate the news that over one million working people throughout the UK are now covered and protected by the Dying to Work charter, which commits employers to providing support for any workers who become terminally ill. This is a fantastic milestone in the campaign.
You can read more about the action I have taken in my constituency to encourage employers to support their terminally ill employees here and read more about the Dying to Work campaign here.