latest news from liz &raquo
On Sunday 15th October I was a guest on BBC Radio 4's Westminster Hour.
On the show I discussed why I think public sector workers need a real terms pay rise, the importance of Brexit negotiators securing a transition period as Britain leaves the EU, and why the Government needs to pause its rollout of Universal Credit until serious problems with the new benefits system are fixed.
You can listen to the show here.
On Wednesday 11th September I took part in a Brexit debate on Adam Boulton's All Out Politics show on Sky News.
The Government urgently needs to make progress on the negotiations or the UK risks crashing out without a deal, which would undermine the future of UK citizens living abroad and EU citizens in the UK while hitting businesses with tariffs and red tape.
Watch a clip of the show here.
Following a public meeting to discuss smells from the Cofresh factory I recently received an update from Mr Priyesh Patel, the Managing Director of Cofresh, regarding their plans to address the problem. I have been told that following the receipt of an odour monitoring report after the public meeting, Cofresh have been advised to upgrade their grease filters further, work that has been "extensive".
In addition to the upgraded filters, Mr Patel has said Cofresh are also installing a Dry Vapour System which is designed to ionise the air after the filter. However, I have been told the technology is very new, and that trials will begin as soon as the ducting has been installed.
Mr Patel has also requested that if there are any further problems with the smell after 14th September 2017 that you call Leicester City Council as well as Cofresh's customer service line on 07751 981 607.
I will continue to keep my constituents up to date with any further developments as I am made aware.
On Friday 13th October I visited Braunstone Grove Youth Centre and met with Streetvibe – a local service that provides young people with somewhere to go, something to get involved with and someone to talk to.
I've worked with Streetvibe over many years and have seen the difference they make in giving young people opportunities, confidence and skills.
Like many other youth services, Streetvibe is facing an uncertain future due to the Tory cuts to local council budgets. I'm determined to do everything I can to support them.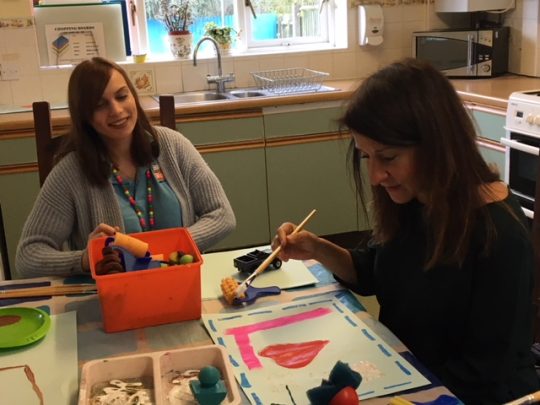 Last week I visited the amazing Building Blocks project in Leicester run by Action Homeless.
Building Blocks is a scheme which offers free play sessions and days out for children and families who have been affected by homelessness in their lives.
On my visit I spent time painting with the children and chatted to their parents who told me what a lifeline the scheme has been for them.
Projects like Building blocks are so important to people here in Leicester who have suffered hardship or domestic abuse and I am pleased to be able to give it my support.