latest news from liz &raquo
Several local residents have contacted me recently regarding potential plans to link Evesham Road and Saffron Lane.
I have already written to the Mayor seeking clarification on this issue.
In order to ensure that the views of local residents are heard loud and clear, I've been asking local residents for their views on the potential plans. If you'd like to take part then please click here for the survey Evesham link suvery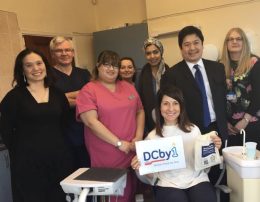 On Friday I met with staff at Winchester Avenue dental practice who are working to improve children's oral health.
The surgery has signed up to the Starting Well campaign, which has an important focus on prevention & making sure children have their first dental check by the time they reach a year old.
This is an important scheme for Leicester, where 45 per cent of children under the age of five years old have experienced tooth decay. I was pleased to visit the surgery and hear from the dentist and dental nurses on how this will scheme will benefit my constituents.
I was delighted to speak in the debate on a public petition calling for the drug Orkambi to be made available on the NHS for people with Cystic Fibrosis. You can watch ITV Central's coverage of my comments here.
Orkambi is a life-changing drug that tackles the root causes of Cystic Fibrosis and is available across Europe. However, it has not been made available on the NHS in England due to its cost. 118 of my constituents signed a petition that called for a debate on why it is not available on the NHS, and I was proud to represent them in Parliament
I believe the NHS and the drug company behind Orkambi must get together to resolve this issue as quickly as possible. We must also make sure there are proper processes in place so that new drugs are agreed for use by the NHS as quickly as possible.
You can read the full debate here, read the petition here, and read information from the Cystic Fibrosis Trust on Orkambi here.
I am proud to have been in Parliament to support the Refugees (Family Reunion) Bill today and am delighted that it passed its Second Reading. This Bill will allow the families of refugees to come to the UK and be reunited with their loved ones. I will continue to back this important Bill. It will now go to the House of Lords, before coming back to the Commons for its third and final reading. You can read more about the Bill here.
In Parliament on 14thMarch I condemned Russia's actions in the UK and welcomed the Prime Minister's statement on the Government's response. I absolutely believe we must work closely with our international allies, including the United Nations, following the incident in Salisbury. I asked the Prime Minister whether in light of Russia's actions in the UK, in Ukraine, and in backing Assad's murderous regime in Syria, she shared my serious concerns about its continued membership of the UN Security Council. Watch my question here, or read the full debate here.