Supporting our Police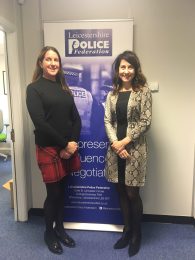 It's really important for me to keep in touch with organisations across Leicester West. On Friday I caught up with Tiffany Lynch from Leicestershire Police Federation.
Tiffany updated me on their policing priorities, their work to keep neighbourhood policing and how the police force are facing problems in retaining experienced officers.
Since 2010 severe budget cuts to the police have seen Leicestershire lose 500 police officers. Last year I supported the Protect the Protectors bill, calling on more protection and better welfare support for our officers.
By providing better support and welfare to our police officers, who do such an important job to keep us all safe, we can hopefully keep some of our most experienced officers.