Articles
Liz questions Health Secretary

Watch my question to the Health Secretary: The NHS won't be put on a steady footing unless social care is properly funded, but the Government's plans mean there won't be any substantial extra money for social care until 2020 at the earliest. Ministers are failing to deal with the fundamental challenges facing our health services

Posted by Liz Kendall on Tuesday, 19 June 2018
On 19th June I questioned the Health Secretary about the Government's plans for NHS funding. The NHS will not be on a stable financial footing unless social care gets a long-term funding settlement, but the Government's plans mean there won't be any substantial extra money for social care until 2020 at the earliest. The NHS and social care must be looked at together if we are going to address the biggest challenges facing our health services.
I was also interviewed about funding for the NHS and social care by BBC Radio 4's Today Programme. You can listen to the interview here.
I was very proud to host this year's Shared Lives Parliamentary reception on 20th June.
I have been a long-term supporter of the charity, which provides a network of family based care for adults who need support, including older people and those with learning disabilities. Shared Lives helps people to enjoy fulfilling lives by providing the love and support of a family.
One of the scheme's users, Meg, gave a very moving speech about the difference Shared Lives carers can make. Shared Lives carers opened up their home to Meg and the results have been life-changing. You can read Meg's speech here.
The theme of this year's event was ensuring fairness for carers, some of whom haven't had a pay-rise for over 10 years. Carers need to be provided with the training and support they need to carry on their amazing work.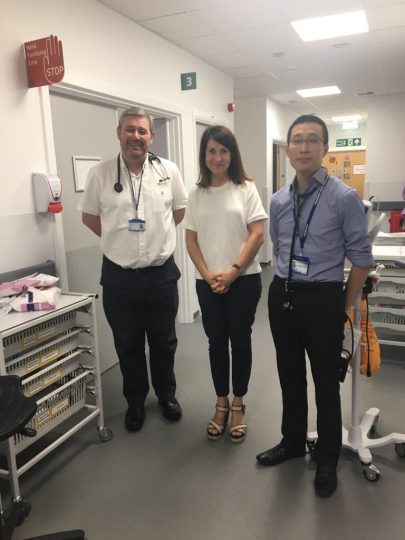 On Friday I visited the new A&E department at Leicester's Royal Infirmary.
A&E consultant Dr Lee Walker and Geriatrician Dr Richard Wong showed me how they are working to improve care for frail elderly people.
Both have stressed to me the huge importance social care and community services can play in helping people live longer in their own homes and reduce the pressure on our A&Es.
On 27th May I wrote a joint article in the Observer with MPs Norman Lamb and Sarah Wollaston, which called on the Government to accept the findings of new research and spend significantly more on the NHS and social care. The study from the Institute for Fiscal Studies and the Health Foundation found spending on the NHS needs to grow by 4% a year if services are going to improve, and social care needs a 3.9% annual rise just to meet demographic pressures.
You can read the full report here and our article in the Observer here.