Articles
Last week I met with the Care Providers Alliance (CPA) to listen to the views of independent and voluntary organisations providing adult social care in England.
CPA members were seriously concerned about the state of social care. They are under huge pressure as they try to deal with chronic staff shortages, historical underfunding, and the current economic crisis which is causing their costs to soar.
I told the meeting that I would continue to voice their concerns and hold the Government to account, particularly the new Chancellor who said just months ago that one of his biggest regrets as Health Secretary was not reforming social care.
Labour would deliver a 10-year plan of investment and reform in social care to give care providers and care users the stability and certainty they need. You can read more about this here.
I look forward to continuing to work closely with the CPA in the months ahead.
The previous Conservative Health Secretary promised £500m social care discharge funding for this winter. But we are now in November and not a single penny of this money has been seen.
Tory political chaos and incompetence over the last few weeks means that local services cannot properly plan and thousands more elderly people are trapped in hospitals when they do not need to be, with all the knock-on consequences this has for the rest of the NHS.
The Tories are not giving our NHS or social care the support they need this winter.
Earlier this week I challenged the Government over the £500m social care discharge fund. I didn't get an answer. You can read what I had to say here.
Yesterday, I had a brilliant virtual meeting with the Slough co-production network. We talked about the great work they have been doing locally and how this can help shape the social care reform that is so badly needed nationally.
The Slough co-production network is made up of local residents with experience of health and social care services and professionals working in social care. Together, they design and reform local services so they can deliver the best outcomes for the people who use these services.
By empowering local people to shape social care in their area, the Slough co-production network are transforming the way services are delivered, including mental health services and services for unpaid carers.
In my experience of working in health and social care, the most powerful changes I have seen are when local people who use and deliver services are empowered to shape and design these services. This is at the heart of Labour's vision for social care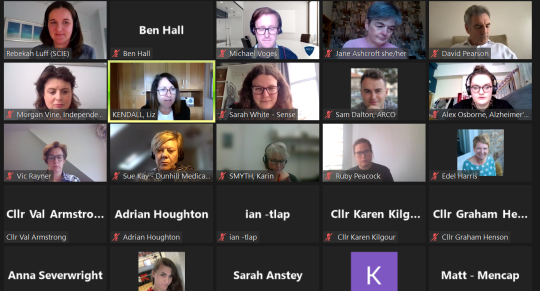 Yesterday, I hosted a virtual meeting to discuss housing and social care. I was joined by labour councillors, charities working in social care and care providers. It was a really interesting discussion on how we improve the quality and availability of homes for older and disabled people.
Some of the key challenges that came up included the lack of housing choices for older and disabled people, regional inequalities in housing provision, and a lack of support in the community to help people stay in their own home.
I am a big believer in the Social Care Future Vision that "We all want to live in the place we call home with the people and things that we love, in communities where we look out for one another, doing the things that matter to us" This is at the heart of Labour's vision to transform social care.
Meetings like this are an important part of making this vision a reality.