Articles
On 14th May I spoke in a Westminster Hall debate on the inquiry into the Grenfell Tower fire. There has been an appalling lack of progress on rehousing those who lost their homes in this appalling tragedy. 74 households are still living in hotel rooms and 64 are in temporary accommodation. Much more must also be done to ensure the children affected by this tragedy receive the long-term support they need. The families affected must be put at the heart of the inquiry if we are going to get to the bottom of what happened. You can read the entire debate here.
I was appalled and disgusted to hear that letters inciting hate crime and calling for a so-called "Punish a Muslim" day have been circulated in Leicester and Leicestershire – as reported in the Mercury.
I have been in regular contact with the police to ensure everything possible is being done to reassure, support and protect local residents.
I have also been in contact with our local mosques and other representatives from the Muslim community.
And I recently signed a strongly worded statement condemning all forms of hate crime, along with our city councillors, City Mayor Peter Soulsby and Leicester MPs Jon Ashworth and Keith Vaz.
The explosion in Leicester has been a terrible shock to the local community. On 28th February I asked the Prime Minister to pay tribute to the incredible emergency services and our local residents who have shown great courage, and to make sure we get all the support needed so that my constituents can put their lives back together and find out why this happened.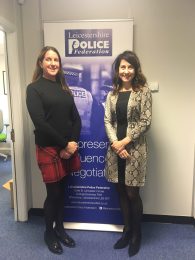 It's really important for me to keep in touch with organisations across Leicester West. On Friday I caught up with Tiffany Lynch from Leicestershire Police Federation.
Tiffany updated me on their policing priorities, their work to keep neighbourhood policing and how the police force are facing problems in retaining experienced officers.
Since 2010 severe budget cuts to the police have seen Leicestershire lose 500 police officers. Last year I supported the Protect the Protectors bill, calling on more protection and better welfare support for our officers.
By providing better support and welfare to our police officers, who do such an important job to keep us all safe, we can hopefully keep some of our most experienced officers.