Articles
On Friday, Liz's MP representative, Sarah Russell and the constituency team visited Inglehurst Junior School who have been focused on letter writing. A Year 6 pupil wrote to Liz to express their concerns about issues that meant a lot to them, including local wildlife, litter and economic growth.
Liz's team met with the school's pupil parliament during the visit. The pupils told the team about their recent visit to the Houses of Parliament and asked Sarah and the team some fantastic questions on topics ranging from the rise in energy prices and support available to families to the various types of support that Liz's team offers to the constituents of Leicester West.
Last week I visited Barley Croft Primary School, in Beaumont Leys, where they held their Christmas Assembly.
Pupils and staff at the school also said goodbye to their headteacher, Kevin Lacey, after 14 years at the school. During his time as Head, Kevin has led the school to great success including improving its Ofsted rating from "Inadequate" to "Good"; overseeing a full refurbishment of the school; and developing a culture where children are inspired to enjoy learning, so they achieve their best.
I am really sorry to be saying goodbye to Kevin. He has been an absolutely inspirational Head, and I have loved seeing the fantastic, innovative way he has helped children engage with learning. I know how hard he has worked, and how much he has put into the school, so I wish him the very best on his retirement.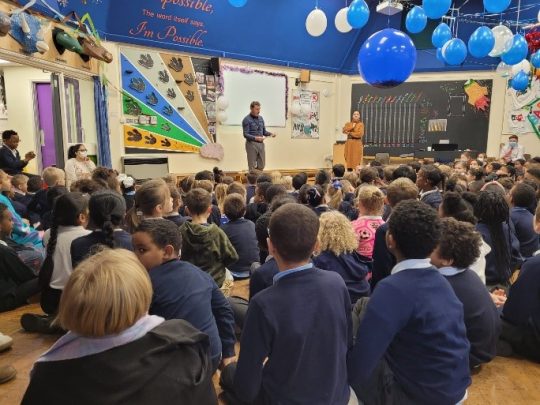 As the Christmas holidays approach, I am very concerned that the Government have failed to learn lessons from the previous years about coronavirus in schools. I spoke on Politics Live yesterday about what needs to be done.
Right now, only 44% of 12-15 year-olds have received a first dose of the vaccine. We have seen almost 300,000 children out of school. And the number of children getting jabbed has dropped 80% since the start of November.
The Government must put in place a 'Christmas vaccine guarantee', to make sure all children get their first jab before schools return in January. They also need to take action on ventilation, and make sure children don't miss out on learning.
Choosing the winner of my annual Christmas Card competition is one of the highlights of my year and last week I announced this year's winner is Danny Casey, aged 4, from Braunstone Frith Primary School.
Hundreds of school children from across Leicester West competed to design my Christmas card which will be sent to people across Leicester and Westminster.
Danny created the colourful Christmas Tree design (above), and will receive tickets for this years' pantomime at De Montfort Hall.
Thank you to all the children who took part in the competition, to all the infant, junior and primary schools in Leicester West, and to the sponsors who are supporting my competition this year.