Articles
I was recently contacted by Educ8, an organisation which provides alternative education for secondary school pupils both nationally and in Leicester West. The organisation supports pupils who for a wide range of reasons thrive in a non-mainstream educational setting, or may have complex needs.
While the Government has asked schools to remain open to the most vulnerable children and the children of key workers, Educ8 had found difficulties in delivering this after the closure of their Leicester West venue.
Having raised the difficulties Educ8 was facing with Leicester City Council, a new venue will now be found in Leicester West meaning that Educ8 will be able to continue supporting its most vulnerable students, and children of key workers, in line with Government guidance on social distancing.
In my Leicester Mercury column this month, I talk about Leicester's new Space Park – which will bring together the University of Leicester's world leading space science and research with industry to seize the potential of this sector and create more than 3,000 high skill, high value jobs.
For the Space Park to reach the next stage of development, it requires around £30m of Government funding.
Investing this money could make a real difference here in Leicester and across the East Midlands. That is why I will be pressing the Chancellor to back our Space Park in the upcoming budget and Government Spending Review.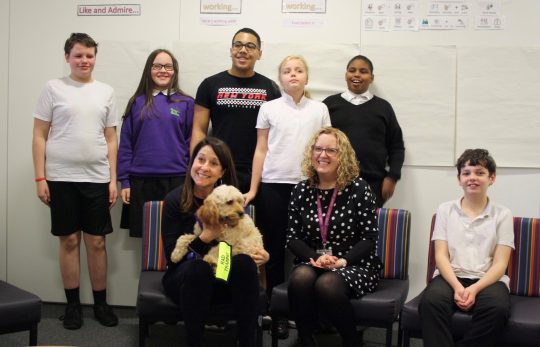 On Friday 28th February I visited Ellesmere College, a special school for students aged 4-19 in Leicester, where I met members of the School Council and Ted, a mental health assistance dog.
Ted, a 7-month-old Cavapoo puppy, has been at Ellesmere College since he was 12 weeks old and listens to children read in the new school library. Once fully trained, Ted will be able to accompany nervous young people on trips into the community and will continue to support children talking about their feelings where they wouldn't be able to open up to a person.
Young people's mental health is so important and those with special educational needs face additional challenges. I am really proud of the fantastic things Ellesmere College is doing to tackle this problem head on.
I was delighted to welcome the school council from Glebeland's Primary School to Parliament last week. The students had a tour of the House of Commons and the House of Lords, and I joined them afterwards to answer their questions and speak to them about what it is like to be an MP.
I loved listening to their views on the issues that matter most to them, and it was encouraging to hear that many of them would like to be MPs themselves one day!
If you are interested in visiting with your school, I would urge you to contact Parliament's fantastic Education Centre
here.