Articles
On 10 July I met a young constituent in Parliament who is living with HIV to discuss the importance of improving public awareness and treatment in the UK. It was really inspiring to talk to them about the challenges they had overcome and the action they are taking to change people's attitudes around the world. I would urge people to take an HIV test at sites such as Leicestershire Aids Support Service, which offers a confidential and free service. I recently took an HIV test to support National HIV Testing Week.
You can read more about the work of Children's HIV Association here, and more about Leicestershire Aids Support Service here.
I had the huge honour this week in congratulating Fullhurst Community College after they were awarded a Silver Pearson Teaching Award for the School of the Year – Making a difference category.
I am thrilled that Fullhurst has been awarded this prestigious prize. It's a real testament to the dedication, passion and hard work of the teachers, who always go the extra mile.
This week they have been nationally recognised for making a huge difference to young people's lives – I could not be prouder of them all.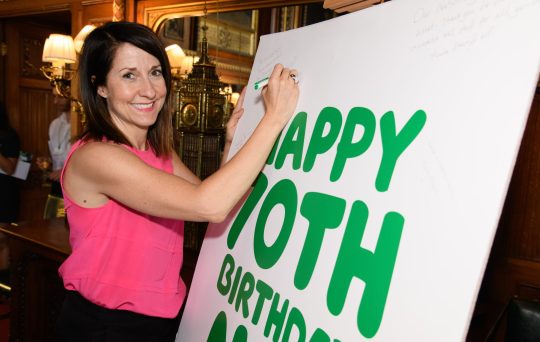 As we celebrate the 70th birthday of the NHS, I was delighted to join Macmillan this week to recognise the vital role they have played in our NHS since its creation in 1948.
Macmillan was founded in 1911, before the NHS was born, and was a vital source of help and information for patients and doctors on how to recognise, treat and prevent cancer.
Since the creation of the NHS in 1948, Macmillan have invested millions of pounds and played a vital role in our health service. There are now over 2,000 Macmillan nurses supporting cancer patients and their families right across the country.
I recently visited Leicester's Royal Infirmary where I saw first-hand how vital the partnership is between Macmillan and our NHS.
Over the coming years our NHS and social care services will face huge challenges and more must be done to ensure they last for another 70 years and beyond. However, today is a day to celebrate our NHS, be proud of what it stands for and all the people who work in it.
On Friday 22nd June I held a public meeting with local councillors, Annette Byrne and Vijay Riyait, the Deputy City Mayor for Environment, Public Health & Health Integration, Adam Clarke, as well as representatives from Leicester City Council, the Environment Agency and Biffa to discuss the smell produced by the nearby Biffa plant.
My office has recently received a number of complaints regarding the smells which have been an ongoing problem for a number of years, and I find that local residents are having to put up with it completely unacceptable.
I will be holding meetings with both Biffa and Leicester City Council before meeting residents again in September to provide an update.