Articles
I appeared on Politics Live this week to discuss the latest announcements on NHS pay. Since the Tories came to power, nurses starting salaries have fallen in real terms by £840 a year. By giving NHS staff a 1% pay rise, the Government is in fact giving them a real-terms pay cut.
Cutting nurses pay and increasing taxes on ordinary people isn't right. It won't help secure the growth and economic recovery we need to get public finances back on track.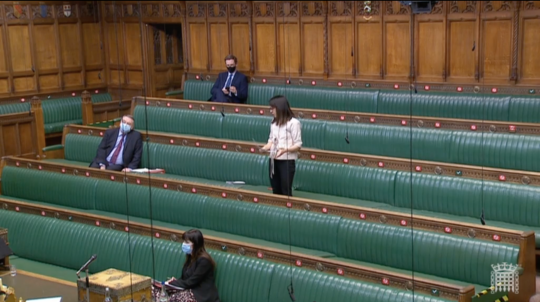 Today I spoke in the final day of Budget debates in Parliament. I argued that reforming social care is a matter of social justice and an economic necessity, and that the governments failure to grasp this fact is undermining growth, productivity and the need to get value for taxpayers' money – all of which are essential with family finances and the public finances under such strain.
The Prime Minister stood on the steps of Downing Street in July 2019 and promised a plan to 'fix' social care. 18 months later, this plan is still nowhere to be seen. The Government must now bring forward their plans to fix social care without delay – we do not have a moment to lose.
It was a pleasure to speak at East Midlands Labour Party's International Women's Day event yesterday evening. Throughout the coronavirus pandemic, women have been more likely to be made redundant, see their pay packets cut, and bear the burden of unpaid work in the home.
We've seen these gender inequalities play out in social care. 83% of the social care workforce are women, and 58% of unpaid carers are women. And in order to meet the growing demand for social care, we need 520,000 more frontline care workers. That's before we even begin to meet the needs of those who are currently not eligible for social care support.
Our carers have borne the brunt of this pandemic. As we begin our recovery, we must make the economic argument as well as the moral argument for investing in social care, and fix our system once and for all.
Rishi Sunak's budget on Wednesday had absolutely no mention of social care. This pandemic has exposed the impact of 10 years of social care funding cuts, and our carer workers and families deserve better.
The Chancellor then told the BBC that the reason that social care plans hadn't been brought forward was that the Government were trying to build cross-party support. As Shadow Care Minister, this has not once been raised with me, or other members of the Shadow Health Team. This is despite of me asking about it multiple times over the last year.
Proper cross-party talks isn't the Government deciding and expecting other parties to agree. It's about finding common ground that will last for years to come.
The Prime Minister said over 18 months ago that he had a plan to fix social care. We need to see this plan urgently and end the crisis in social care once and for all.
Read more coverage in the Daily Mail, Sky News, the Yorkshire Post, the i, and the Daily Mirror.