Articles
This week in parliament MPs debated the Building Safety Bill. The Bill is a response to the tragic fire at Grenfell Tower in which 72 people lost their lives.
After the horror of Grenfell, the Government and industry must take shared responsibility to make all buildings safe and ensure the costs of doing this are not passed onto leaseholders.
Labour did not oppose the Bill as we welcome many of measures within it. However, there is real concern about what is not included in the Bill. Labour has called for the Government to go further and legislate to ensure leaseholders are protected from the costs of removing or fixing any historic cladding and non-cladding defects. So far, the Government has failed to do this.
Ministers have promised on at least 17 occasions that leaseholders should be protected from ruinous fire safety costs, but time and time again their situation has got worse not better. You can see Liz call out the Government's record of failure on this issue here.
Locally, Liz has met with people in Leicester West who have been caught up in the cladding scandal and will continue to push for the Government to provide them with the safety and support they deserve.
Labour's priority is to protect innocent homeowners. We are committed to working cross party to resolve this crisis, and we will continue to try and amend the Building Safety Bill to give leaseholders the protections in law that have long been promised by the Government.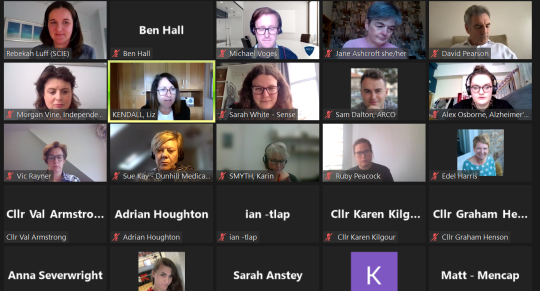 Yesterday, I hosted a virtual meeting to discuss housing and social care. I was joined by labour councillors, charities working in social care and care providers. It was a really interesting discussion on how we improve the quality and availability of homes for older and disabled people.
Some of the key challenges that came up included the lack of housing choices for older and disabled people, regional inequalities in housing provision, and a lack of support in the community to help people stay in their own home.
I am a big believer in the Social Care Future Vision that "We all want to live in the place we call home with the people and things that we love, in communities where we look out for one another, doing the things that matter to us" This is at the heart of Labour's vision to transform social care.
Meetings like this are an important part of making this vision a reality.
I am so pleased to see that Kirk Walk in Braunstone Frith has finally been resurfaced.
Jean Weston, a local resident, had a bad fall because of the terrible state of the path but thanks to relentless campaigning by local stalwart Joe Carroll, backed by our Western ward Councillors, it's been sorted!
I recently met with Alicia Kennedy, the Director of Generation Rent, an organisation that campaigns to make sure that the voices of private renters are heard by landlords, by policymakers, and by politicians.
I am really looking forward to a new awareness campaign, Renters Rights Awareness Week, which will run from the 14th – 19th June. Generation Rent will be using this campaign to raise awareness of renter's rights to ensure people have as much information as possible, and can recognise when things are wrong.
I will be working with Generation rent with the aim of improving rights for private renters – a huge issue both in Leicester and across country.