Articles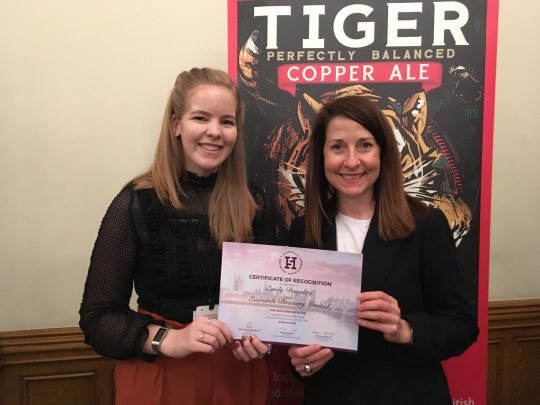 This week is National Apprenticeship Week and yesterday I was really pleased to present my constituent Emily Doughty with an award in Parliament for progressing through her finance apprenticeship with Everards Brewery in Glenfield.
Emily began her three-year Association of Accounting Technicians apprenticeship course in October 2017. When she completes the course, she'll graduate as a part-qualified accountant.
Apprenticeships are an excellent opportunity to help people gain valuable experience as they set out on their careers. I'm determined to do all I can to support young apprentices like Emily to build an exciting future for themselves.
I am deeply concerned that Valeo Foods UK's Big Bear Confectionery has informed its employees of plans to close the Fox's Glacier Mints factory on Sunningdale Road in my constituency. You can read more about the story here.
This could mean more than 200 members of staff are at risk of losing their jobs, which is devastating news for our community.
I have called on Valeo to protect jobs at the site or redeploy staff to sites elsewhere in the country. I have also urged the company to provide training and support to any staff member who cannot be redeployed to help them find alternative work. I am also in close contact with trade unions.
Anyone who is affected by this news and needs support should contact my office on the Narborough Road and I will do all I can to help.
The Prime Minister has finally announced that if MPs do not approve her Brexit Withdrawal Agreement by 12 March, Parliament will be given a vote on whether the UK leaves the EU without a deal and – if that is rejected – to request that Brexit day is delayed. This followed pressure from a cross-party group of MPs that would have forced the Prime Minster to request an extension to Article 50 to prevent no deal via my colleague Yvette Cooper's Bill, which I co-sponsored.
I'm glad the Prime Minister has recognised that if she can't get her bad Brexit deal through Parliament we will need to extend Article 50 to avoid a disastrous no deal Brexit. However, delaying Brexit day must be done for a purpose. On 26th February, I called on the Prime Minister to change her course and drop her red lines on the negotiations to break the Brexit deadlock.
I am proud to have supported multiple amendments to the Government's motion on the UK's withdrawal from the EU, including an amendment from Alberto Costa MP that ensures the rights of EU citizens in the UK and UK citizens in the EU are protected even in the event of a no deal Brexit. I was pleased the Government responded to our pressure and accepted this amendment.