Articles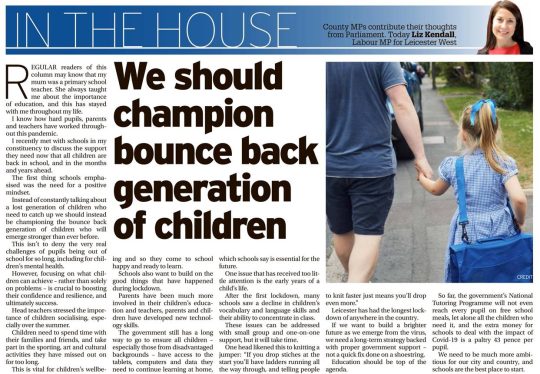 In this month's Leicester Mercury column, I talk how we must build a brighter future for our children as we emerge from this pandemic. Education must be top of the agenda. Right now, the Government's National Tutoring Programme won't even reach every pupil on Free School Meals, and the extra money for schools to deal with the impact of Covid-19 is a paltry 43 pence per pupil.
Leicester has had the longest lockdown of anywhere in the country. If we want to build a brighter future as we emerge from the virus, we need a long-term strategy backed with proper Government support – not a quick fix done on a shoestring.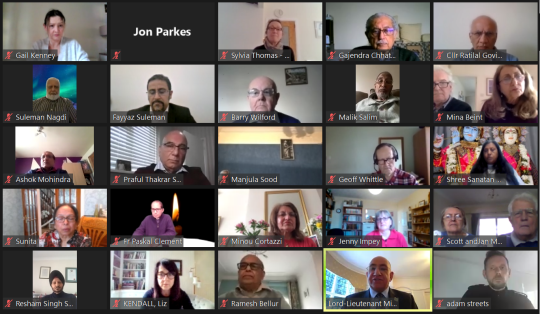 This evening I joined Leicester Council of Faiths, faith & civic leaders from across the city, to remember all those who've lost their lives during Covid-19.
As we mark one year since the start of the first lockdown I think of all of those who have lost their loved ones and I reflect, both as a MP and as a member of a family, on what we have all been through.
Leicester has been hit especially hard by this virus as our poverty and inequality have made us vulnerable, but together in addressing these problems we will prevail & build a better future for us all.
Yesterday I appeared on BBC East Midlands Today to talk about the Census this weekend, and how it is a fantastic opportunity to understand the scale of unpaid care being provided in Leicester.
The Census is important as the results will help organisations, including local authorities and charities, to make planning and funding decisions for public services in Leicester and across the country.
It is so important to identify those who are helping to look after their elderly or disabled relatives, as currently too many unpaid carers are missing out on the information and support they need.
A Census letter will be sent to every household, and the Census survey can then be completed online, with paper survey forms also available.
Today I met with some of the amazing Primary & Secondary School Heads in Leicester West to discuss the achievements of our children & young people during Covid-19, as well as
what more support they need to succeed & thrive in future.
This was such a positive and inspiring discussion. I will always do everything I can to support our local schools.