Articles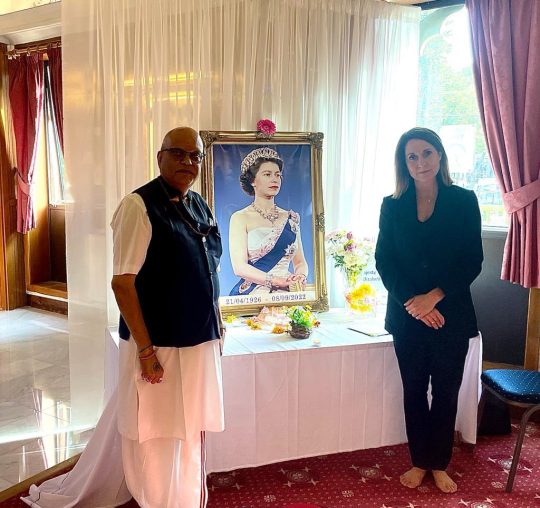 Yesterday, I was honoured to sign the book of condolences for our late Queen at the Shree Jalaram Temple on Narborough Road.
Prayers are being held in the Queen's honour every day after the daily morning Arti throughout the mourning period, and any member of the public can sign the book and pay their respects.
I also joined the special meeting of Leicester City Council at Leicester Town Hall. This was an important opportunity to reflect on her late Majesty's astonishing 70-year reign, as well as sending our sympathy and best wishes to the new King.
I know people across Leicester are mourning the death of our beloved Queen.
Today, I was honoured to take part in the tributes paid to her late Majesty in Parliament. You can watch my speech above.
I'm pleased Boris Johnson has finally resigned. It's the right decision for my constituents and the rest of the country.
But the truth is he should have gone a long time ago. His lies, broken promises and lack of basic decency and integrity have damaged Britain at home and abroad.
Whilst the Tories rip themselves apart and inflict chaos on the country, my constituents face a cost of living crisis.
People can't pay their bills, rent or mortgages or afford the weekly shop. They can't get a passport or driving licence, let alone an operation or an appointment to see their GP. And the Tories are scrabbling around like rats in a sack trying to save their own necks rather than sorting all these problems out. That's before we even look at the bigger challenges Britain faces like climate change and global threats like that from Russia.
The Tories have been in government for 12 long years. They are all culpable for the mess we face.
As Keir Starmer has rightly said, changing one person at the top of the Tory party isn't anywhere near enough. We need a change of government and a fresh start for Britain.
Today marks the start of Carers Week. Carers Week is an annual campaign ran by Carers UK to raise awareness of the work done by the more than 6.5 million unpaid carers in the UK who care for a loved one with an illness, disability or other support need.
Without unpaid carers, our social care system would collapse. Liz has long argued that transforming support for carers must be at the heart of any plan for social care reform. Yet the Government's plans to "fix the crisis in social care", by hiking people's national insurance contributions during a cost of living crisis, will do nothing to support the millions of carers who are seeing their own health and finances suffer because of their caring responsibilities. You can see Liz's response to the Government's social care proposals here
Last year, Liz marked Carers Week by working with local services in Leicester to better identify and support unpaid carers in the city. She wrote about this work in the Leicester Mercury.
This year, Carers Week is focused on making caring visible, valued and supported. More details are available here, and if you want to get involved in the activities organised by the Leicestershire and Rutland Carers Centre, please follow this link to find out more information.
If you are currently looking after a loved one, even just for a few hours a week, help is out there to support you – visit Help and advice on caring – Carers UK or contact The Carers Centre at 0116 2510999 or enquiries {at} thecarerscentre.org(.)uk