Articles
Official data shows that only 52% of staff in care homes for the elderly in London have have their coronavirus jab. This is incredibly worrying – the vaccine could save their own lives, as well as the lives of people in care.
The government must put in place a strategy to tackle misinformation about the vaccine and encourage far greater uptake amongst all frontline care workers working closely with care providers and trade unions. After so many deaths in our care homes, this is a matter of urgency.
The Government have announced that from March 8, care home residents in England will be allowed one regular visitor. This is something Labour has been campaigning on since last June.
However, we need confidence that things will really change. We need legislation, to make visits to care homes a legal right, and end the blanket ban on visits.
Read more on BBC News and in the Daily Mail.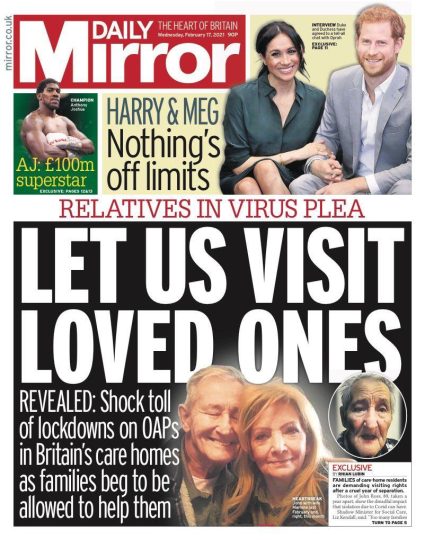 Labour has been calling for care home visits to resume for months. I wrote to Matt Hancock last June asking for families to be treated as 'key workers', with the same testing and PPE as staff. Now, we are almost a year into this pandemic, and blanket bans on care home visits are still in place. These bans have caused immense pain and sorrow for families, and harmed the health of their loved ones.
Care home residents are fading fast. Families cannot wait any longer to be reunited with their relatives. The Government must support calls to enshrine the right to family visits in law, and outline their plans to get family visits to start again.
I appeared on Peston to discuss the latest announcements from the Government. In particular, the Government have recently announced an additional £3.5bn to remove cladding from high rise buildings over 18m tall, following the disaster at Grenfell in 2017.
This has been sold as an 'exceptional intervention' by the Housing Secretary – but in reality, this simply isn't good enough. Since campaigners started calling for dangerous cladding to be removed from buildings, the Government have said 17 times that leaseholders would not have to pay a penny towards the removal – but they broke this promise.
Anyone living in buildings under 18m tall with dangerous cladding are being asked to pay towards its removal.
Robert Jenrick is out of touch with most people's lives – the Government must revisit these proposals and make sure leaseholders are not left out of pocket.