Articles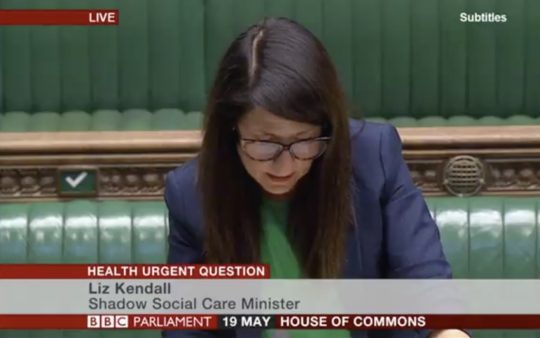 Instead of denying delays and problems in social care, ministers should learn from mistakes, so they can put the right measures in place, and keep all elderly and disabled people safe.
You can watch my urgent question about this to the Health Secretary here.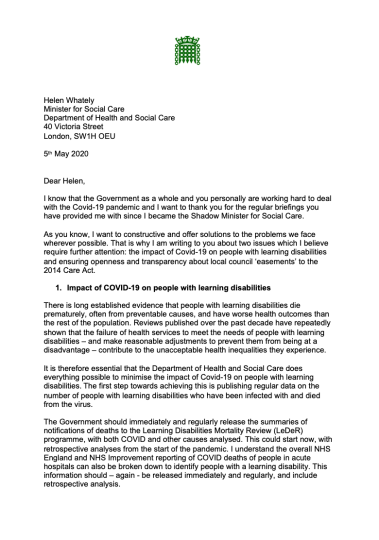 I recently wrote to Helen Whately, the Social Care Minister, about two issues which I believe require further attention: the impact of Covid-19 on people with learning disabilities and ensuring openness and transparency about local council 'easements' to the 2014 Care Act.
There is long established evidence that people with learning disabilities die prematurely, often from preventable causes, and have worse health outcomes than the rest of the population. The Government must do everything possible to minimise the impact of Covid-19 on people with learning disabilities.
I am also concerned by reports that some local authorities have introduced 'easements' to the 2014 Care Act, and that these easements may be leaving people without a proper assessment of their needs, with reductions in their care packages, and denying them choice and control. That is why I have asked the Government to assess what further support councils need to fulfil their Care Act obligations, and to publish this information as soon as possible.
You can read more about this here, and you can read my letter above.
Almost 8,000 people have died in care homes, and we are still seeing serious problems with getting personal protective equipment (PPE) to frontline care workers.
I've heard directly from care staff who have only just received PPE, and many are having to re-use the same mask all day. This is absolutely unacceptable – we need more action to get PPE to the frontline, to make care workers a priority for testing (especially getting tests to their own homes) and to ensure proper support from the NHS.
You can watch my question to the Minister about this here, and you can also watch my interview on BBC News here.
Today I joined the BBC News Panel reacting to Prime Minister's Questions.
One of the main topics we talked about was the Government moving to publish daily figures for COVID-19 related deaths outside of hospitals, including in care homes.
This is something I had been pushing the Government to do, and which they should have been doing from the start, so I am glad that they will now be publishing this data.
However, more action is still needed for social care. You can read more about what I am calling for here and you can watch a clip from my interview here.