Articles
I was recently interviewed for the New Statesman about the effect the Covid-19 crisis will have on the Social Care system.
With all the rightful focus on the NHS, social care hasn't had the attention it desperately needs. We've got to stop seeing the NHS and social care separately. The chancellor was right to say we'll do whatever it takes and give whatever resources the NHS needs. But unless you have a properly functioning social care system the NHS is not going to be able to work properly.
You can read the full article here.
As the Covid-19 pandemic continues to spread throughout the world, developing countries are now at serious risk. Many of these countries do not have developed healthcare systems or access to basic facilities to enable people to regularly wash their hands, both of which are essential for dealing with the pandemic.
That is why I have joined over 200 MP's in asking the Prime Minister to show leadership in supporting developing countries, including by committing financial and political backing to the UN's $2billion Global Humanitarian Response Plan for Covid-19, scaling up public health promotions in developing countries, championing and funding locally-led humanitarian responses to ensure communities have access to everything they need, and supporting the UN Secretary Generals call for a global ceasefire.
You can read the full letter here.

I'm really concerned that Parliament has gone into Easter recess, at a time of national crisis. Whilst of course MPs must lead by example and follow all the official advice, including on social distancing, it is vital that we continue to scrutinise the Government and hold Ministers to account for their actions. Ultimately I believe this will lead to better decision making that will help our country through this inevitably difficult time.
Ministers are asking the country to work in very different ways during this crisis, and Parliament needs to do the same. That is why I have joined over 100 MPs in asking the Clerk of the House of Commons to move Parliament online for the duration of the coronavirus crisis. You can read the full letter
here.
As an example of this, I am very pleased that the Treasury Select Committee has held its first ever remote evidence session via Zoom, with the Trade Union Congress and Confederation of British Industry. The session looked at the action the Government has taken so far to support businesses, employees and the self-employed and what more should be done in future. You can watch our session
here.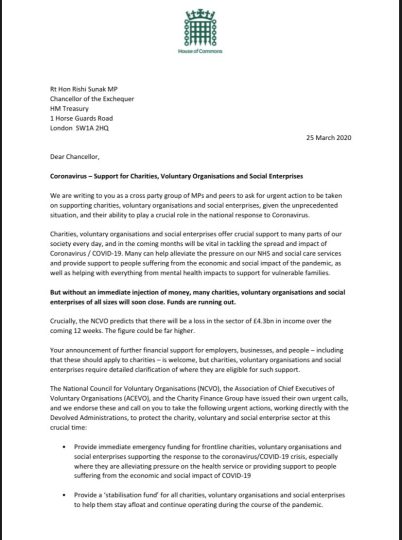 Charities, voluntary organisations and social enterprises offer crucial support to many parts of our society every day, and in the coming months will be vital in tackling the spread and impact of coronavirus.
Many can help alleviate the pressure on our NHS and social care service and provide support to people suffering from the economic and social impact of the pandemic, as well as helping with everything from mental health impacts to support for vulnerable families.
But without an immediate injection of money, many charities, voluntary organisations and social enterprises of all sizes will soon close. I know from conversations I have had with organisations in Leicester that funds are running out and there are many who need help now.
This is such an important issue. That's why myself and 236 other MPs and Peers have signed a letter to the Chancellor calling for urgent action to be taken to support charities, voluntary organisations and social enterprises. You can read the full letter here.