Articles
Matt Hancock was at best disingenuous in his evidence to the select committee today. He selectively used briefings, evidence and clinical advice to defend his record instead of admitting his abject failure to protect care homes in the pandemic.
Even Matt Hancock knows he now categorically failed to put a protective ring around care homes. He has now used multiple excuses for failing to test those discharged to care and family members who have lost loved ones will be frustrated and deeply upset that they still do not have the truth from the Secretary of State today.
The Government was much too slow to act to protect residents and staff. As we emerge from this pandemic Ministers must put in place a plan to transform social care and ensure that care homes never again face a crisis of this scale.
Read more in the Evening Standard, Independent, and BBC News.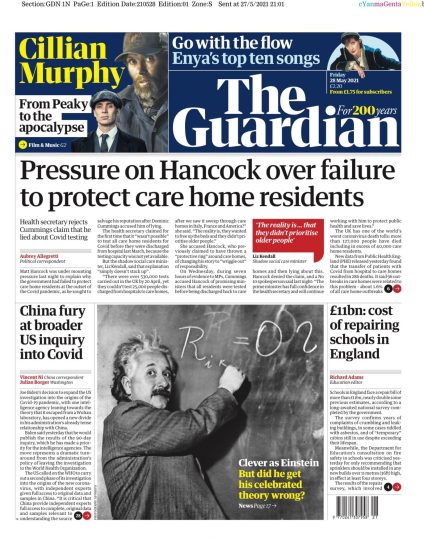 Last week, Matt Hancock claimed it 'wasn't possible' to test all care home residents for Covid-19 before they were discharged from hospital. However, there were over 530,000 tests carried out in the UK by 20 April 2020. To compare, there were 25,000 people discharged from hospitals to care homes. By this point, we had already seen the virus sweep through care homes in places like Italy, France and America.
The reality is, the Government prioritised freeing up beds over protecting older people from the virus. The Health Secretary needs to get his story straight and stop wiggling out of responsibility.
Public Health England's report, written in October, claims that only 1.6% of outbreaks in care homes had come from inpatients who had been discharged from hospital.
The analysis in this report is based on people who were tested in hospital – when the precise problem was 25,000 elderly patients were discharged to care homes without a Covid-19 test – and on people who were tested in care homes, when again we know at the time care home testing was extremely limited and didn't included anyone who was asymptotic.
Instead of using partial data to try and rewrite history and avoid responsibility for the tragedy in our care homes, Ministers should be straight with people about what happened, learn the lessons from what went wrong, and put in place the long-term reforms to social care that families desperately need to make sure these terrible mistakes never happen again.
Guidance from the Department of Health and Social Care at the start of the pandemic did not even mention the need to test care home residents before discharging them from hospital. This didn't change until almost a month after the country went into national lockdown.
This is despite clear evidence of the terrible toll the virus was already taking in care homes in countries like Italy, and repeated warnings from care homes, trade unions and MPs.
In that time, 25,000 people were discharged from hospitals to care homes without a Covid-19 test. Mr Hancock now claims he was having to 'build testing capacity', but it would have taken less than 5 per cent of all the Covid19 tests that were done by 20 April to test every single one of these discharged patients.
Thousands of families who lost their loved ones don't need Dominic Cummings to tell them the Government's rhetoric about putting a protective shield around care homes was 'complete nonsense' – the evidence is there for everyone to see.