Articles
On 12th March I voted against Theresa May's Withdrawal Agreement. It isn't what people were promised during the Referendum, it's a worse deal than we have now, and it doesn't answer any of the fundamental questions about our future relationship with the EU so the uncertainty facing our country will go on for years to come. You can watch my interview on Sky News about my opposition to May's Withdrawal Agreement here.
On 13th March, I voted to rule out leaving the EU without a deal because of the all the risks and uncertainty this would cause.
On 14th March, I voted to in favour of an extension to the Article 50 process so we don't crash out of the EU on 29th March and to give us more time to try and sort this mess out. I was proud to put my name to another amendment that would have enabled MPs to vote on different options about where we go from here, and I was disappointed that this was narrowly defeated. You can read more about the amendments here.
You can watch the debate I had about Brexit on the BBC's Politics Live programme here.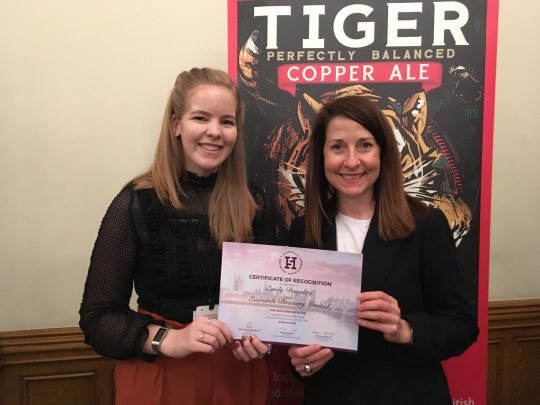 This week is National Apprenticeship Week and yesterday I was really pleased to present my constituent Emily Doughty with an award in Parliament for progressing through her finance apprenticeship with Everards Brewery in Glenfield.
Emily began her three-year Association of Accounting Technicians apprenticeship course in October 2017. When she completes the course, she'll graduate as a part-qualified accountant.
Apprenticeships are an excellent opportunity to help people gain valuable experience as they set out on their careers. I'm determined to do all I can to support young apprentices like Emily to build an exciting future for themselves.
The Government has announced that from this spring disabled pensioners will no longer have to have their Personal Independence Payments (PIP) awards repeatedly reviewed unless their circumstances change. The Work and Pensions Secretary also announced her plans to merge the work capability assessment process for PIP, Employment and Support Allowance and Universal Credit from 2021. You can read more about the changes here.
However, I am seriously concerned that simply merging these assessments will not deal with their underlying problems. The current system clearly has serious flaws. More than 70% of all PIP assessments that are appealed have that assessment overturned by a tribunal, rising to 83% for people with multiple sclerosis.
On 6th March I questioned the Minister for Disabled People about what the Government would do to address these worrying failures in the assessment process.
I was hugely disappointed by the Government's £1.6 billion Stronger Towns Fund, which is designed to boost local economies that haven't benefited from growth. The money on offer is pathetically inadequate in the face of years of Government funding cuts forced on the most deprived parts of our country.
The East Midlands will be allocated just £110 million over seven years. In contrast, Leicester City Council alone has seen its budget cut by £100 million a year since 2010. Local businesses have already described the money on offer from the Government as "a drop in the ocean".
You can read more about the fund and the reaction from across Leicestershire here.