Articles
Almost 8,000 people have died in care homes, and we are still seeing serious problems with getting personal protective equipment (PPE) to frontline care workers.
I've heard directly from care staff who have only just received PPE, and many are having to re-use the same mask all day. This is absolutely unacceptable – we need more action to get PPE to the frontline, to make care workers a priority for testing (especially getting tests to their own homes) and to ensure proper support from the NHS.
You can watch my question to the Minister about this here, and you can also watch my interview on BBC News here.
Today I joined the BBC News Panel reacting to Prime Minister's Questions.
One of the main topics we talked about was the Government moving to publish daily figures for COVID-19 related deaths outside of hospitals, including in care homes.
This is something I had been pushing the Government to do, and which they should have been doing from the start, so I am glad that they will now be publishing this data.
However, more action is still needed for social care. You can read more about what I am calling for here and you can watch a clip from my interview here.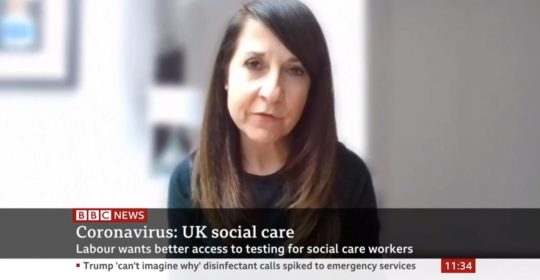 Today the ONS and CQC published statistics showing one third of deaths due to Covid-19 were in care homes in the week ending 17th April. These new figures show the devastating impact Covid-19 is having on care homes, and will be desperately worrying for residents, their families, and staff.
Urgent action is needed to get a grip of this problem. That is why I have today written to the Health Secretary outlining six areas where further steps should be taken to help protect care users and staff, and help bring these appalling death rates down.
The letter calls for action on:
A new intermediate care strategy for people being discharged from hospital who test positive for Covid-19, and to support struggling care homes
Improved access to, and priority testing for social care workers
Guaranteeing all care workers get the PPE they need: for domiciliary care workers and Personal Assistants employed via Direct Payments, as well as staff in residential care
Ensuring social care has "whatever resources it takes" to deal with the Covid-19 pandemic
New leadership for social care sector, with a new Chief Care Officer
Daily reporting of Covid-19 deaths outside hospital, including in care homes.
You can read the full letter here.
Yesterday I took part in the GMB Union's virtual Rally4Carers.
Carers are risking their lives on a daily basis. I was really pleased to be able to show our solidarity and discuss our key demands.
You can watch my speech here, and you can watch the full rally here.