Articles
Last week I met with Cllr Ben Coleman and Lisa Redfern from Hammersmith and Fulham Council. Cllr Coleman is the Cabinet Member for Health and Adult Social Care in Hammersmith and Fulham and Lisa is the Director of Adult Social Care for the council.
It was a really interesting meeting discussing some of the great work that has been done in Hammersmith and Fulham since the council became Labour controlled in 2014.
We talked about the free home care policy provided by the council and Labour's approach nationally to social care.
Labour councils face huge challenges after a decade of cuts to their budgets and the Government's ongoing failure to support social care, but they continue to do amazing work for the people they represent.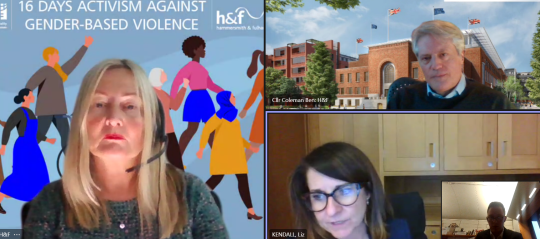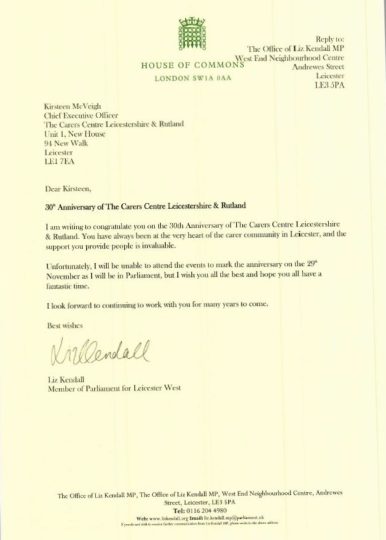 Today is the 30th Anniversary of The Carers Centre – Leicestershire and Rutland.
For thirty years they've supported unpaid family carers in looking after their loved ones, offering them advice and company through what can be an incredibly difficult time.
I've written to Kirsteen McVeigh, CEO of The Carers Centre, offering my congratulations on reaching this milestone.
Today, I spoke to the National Children and Adult Services Conference alongside our Shadow Secretary of State for Education, Kate Green MP.
This event brings together Directors of Children's and Adult Social Services from councils across England, to discuss common issues and hear from experts in this area.
Ahead of the Government's White Paper on Adult Social Care – which we're expecting to be published in the next few weeks – I set out Labour's key 'tests' that we will be holding their plans against.
I want to see the Government present a plan that:
Ensures all older and disabled people get the right support when and where they need it;
Enshrines the principle of 'home-first';
Puts disabled people at the heart of their reforms;
Transforms support for England's 11 million unpaid family carers;
Delivers a New Deal for Care Workers;
And, fundamentally, allows older and disabled people to live an equal life to everybody else.
Unless the White Paper delivers this, I fear it will end up gathering dust alongside the many other White and Green papers we have seen before.
I spoke to BBC Radio Leicester about the real concerns that Labour have with the Government's proposals on care costs.
At a time when we have terrible frontline staff shortages, that family carers are being pushed to breaking point, and that disabled people can't get the help they need to live an independent life, the Prime Minister is protecting the homes of the wealthy.
Why should ordinary people have to pay more, so the wealthy don't have to sell their homes?
Listen to my comments today above.