Articles
Today, I spoke to the National Children and Adult Services Conference alongside our Shadow Secretary of State for Education, Kate Green MP.
This event brings together Directors of Children's and Adult Social Services from councils across England, to discuss common issues and hear from experts in this area.
Ahead of the Government's White Paper on Adult Social Care – which we're expecting to be published in the next few weeks – I set out Labour's key 'tests' that we will be holding their plans against.
I want to see the Government present a plan that:
Ensures all older and disabled people get the right support when and where they need it;
Enshrines the principle of 'home-first';
Puts disabled people at the heart of their reforms;
Transforms support for England's 11 million unpaid family carers;
Delivers a New Deal for Care Workers;
And, fundamentally, allows older and disabled people to live an equal life to everybody else.
Unless the White Paper delivers this, I fear it will end up gathering dust alongside the many other White and Green papers we have seen before.
Today I responded on behalf of the Labour Party to Carolyn Harris's Menopause (Support and Services) Bill. This Bill aimed to make the Government develop a strategy for menopause support and services, including improving education around the menopause, and exempt hormone replacement therapy (HRT) from NHS prescription charges.
There are currently around 13 million women in the UK who are either perimenopausal, or post-menopausal. That is almost a fifth of the entire population, and 90% of women will face some form of menopausal symptoms in their lifetime.
The menopause can affect every part of a women's life – of the 4.3 million women aged 50-64 who are currently in work, a quarter are considering quitting or reducing their hours, because they are struggling with symptoms of the menopause. Symptoms don't just last for a few months; they can last for years, and even decades.
I was proud to support Carolyn's brilliant campaign. Thanks to her excellent work, the Government have agreed to cut the cost of HRT, so instead of having to pay for a prescription monthly, they will only pay once annually. This will save women over £200 a year.
Read my full speech in Hansard. You can read media coverage of the debate on BBC News, in the Evening Standard, The Times, and the Mirror.
Today I was speaking in a debate on coronavirus regulations.
I used the debate to call on the Government to turbo charge our vaccination programme and to improve support for people who have to self isolate.
Our NHS has done a fantastic job on the vaccination programme so far. But I am really concerned that the roll-out is now stalling. In Leicester, only 40% of over-50s have so far had the booster jab. On current national trends we wont complete the booster jab programme until March 2022. This is not fast enough.
Its not just the booster jab programme that is flagging. Vaccinations for young people aged 12-15 are happening far too slowly. We are way behind other European countries on this who rolled out vaccination programmes for children in the summer while our Government delayed.
If we want to get a grip of rising Covid infections then turbo charging the vaccination programme is key. But, I also argued that as well as speeding up the vaccine roll out, we need to deal with the fundamental, long-standing problems that we have had with supporting people to self-isolate during the pandemic—namely, the need to give proper financial support and sick pay in order to help them do the right thing.
Doing all this will be key in getting on top of the virus, dealing with the growing pressures on the NHS, and keeping children in school, parents in work and our economy open for business. Whether it is plan A or plan B—we need a plan.
You can read my speech here- Health Protection (Coronavirus, Restrictions) (Self-Is – Hansard – UK Parliament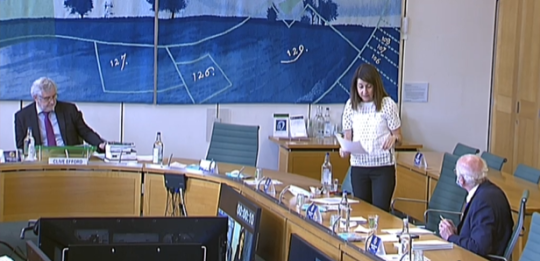 Today I spoke in a debate on 'the impact of Covid-19 on retirement communities'. This is an issue which has received precious little attention during the pandemic.
I believe
retirement communities must play an big part in plans for social care reform.
Retirement communities – or housing with care developments – allow older people to live
independently
in their own homes
.
However
, only 0.5% of over-65s live in these developments in he UK, compared to 5-6% in other countries.
Like everyone, retirement communities faced challenges during the pandemic. Residents were lonely and isolated, and providers struggled with PPE and staff shortages.
Despite this, a smaller proportion of people died from Covid-19 in retirement communities, compared to the same age range elsewhere
.
Residents in these developments also do more exercise, have fewer falls, and are less likely to suffer from anxiety and depression
. This benefits the entire health system.
Some evidence suggests that those living in retirement housing are 38% less likely to go to hospital
.
Labour supports an expansion of housing with care options. There are three things we need:
A

clearly

defined category of housing with care in our planning system.

Legislation and regulation for housing with care, to give residents confidence in the system

.

A range of housing with care options that are affordable to people of all backgrounds.
The number of over-65s
is expected
to go up by 40% by 2040. We need more housing options for older people, and housing with care is one of the ways to do this.