Articles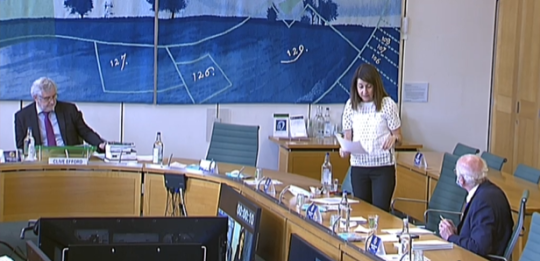 Today I spoke in a debate on 'the impact of Covid-19 on retirement communities'. This is an issue which has received precious little attention during the pandemic.
I believe
retirement communities must play an big part in plans for social care reform.
Retirement communities – or housing with care developments – allow older people to live
independently
in their own homes
.
However
, only 0.5% of over-65s live in these developments in he UK, compared to 5-6% in other countries.
Like everyone, retirement communities faced challenges during the pandemic. Residents were lonely and isolated, and providers struggled with PPE and staff shortages.
Despite this, a smaller proportion of people died from Covid-19 in retirement communities, compared to the same age range elsewhere
.
Residents in these developments also do more exercise, have fewer falls, and are less likely to suffer from anxiety and depression
. This benefits the entire health system.
Some evidence suggests that those living in retirement housing are 38% less likely to go to hospital
.
Labour supports an expansion of housing with care options. There are three things we need:
A

clearly

defined category of housing with care in our planning system.

Legislation and regulation for housing with care, to give residents confidence in the system

.

A range of housing with care options that are affordable to people of all backgrounds.
The number of over-65s
is expected
to go up by 40% by 2040. We need more housing options for older people, and housing with care is one of the ways to do this.
On Wednesday, I asked an Urgent Question to the Care Minister about the Government's plans for social care reform
.
It has now been almost two years since the Prime Minister promised to 'fix the crisis in social care.'
Yet, at the start of the week we heard that these talks
were delayed
yet again.
This isn't giving the 'dignity and security' to people that Boris Johnson promised – it's abdicating responsibility
.
In the century of ageing, we cannot build a better future for Britain without a decent system of social care. The time for excuses is over. We need a plan for reform, and we need it now.
After
almost two years of broken promises on social care reform, the Government have once again failed to bring forward details of their plans on social care. Today's Queens Speech announced that reform would be 'brought forward' – but gave no detail on what this would look like.
Social care is as much a part of our infrastructure as the roads and the railways, and if we are to build a better Britain as we emerge from this pandemic, we need a 10-year plan for investment and reform.
I outlined Labour's plans for social care reform in a speech to ADASS conference last month – read it here.
As part of my speech at the Association of Directors of Adult Social Services Spring Conference, I am today calling for social care to be treated as part of Britain's infrastructure, treating it the same way we would the roads and railways. If you neglect your country's physical infrastructure, you get roads full of potholes, and buckling bridges. The same is true if you fail to invest in social infrastructure like care.
We need a ten-year plan of investment and reform to transform the lives of older and disabled people, as part of our plans to make Britain the best country in which to grow old. Our aim isn't just to fix the crisis in social care, as the Prime Minister has called for. It is to transform support for all those who need social care, and enable older and disabled people to live the life they want to choose.
Under Labour's plans for social care, we will:
Take a 'home-first' approach, increasing the use of early help and technology to ensure people can live in their own home for as long as possible.
Empower care users and their families by giving them greater say and control on services.
Deliver a new deal for frontline care workers, to transform pay, training and working conditions.
Build partnerships with families, where Government backs unpaid carers to look after their loved ones
Join up health and social care services, to deliver a 'one person, one team, one system' approach.
Read more on LabourList, and in the Telegraph.
You can read my full speech on Labour's website.