Articles
As we mark the 100th anniversary of women first getting the right to vote, I feel huge pride for what those campaigners achieved and a real sense of responsibility to continue the fight to achieve equality for women.
On 6th February, I asked the Home Secretary whether she agreed that more needs to be done to make sure the growing number of women who are forced to care for an elderly relative are treated fairly in work and get the support they need.
I was also interviewed on BBC Radio Leicester about what inspired me to become an MP, my experience of first coming to Parliament and the inspiring young women I meet who want to change the world. You can listen to the full interview here.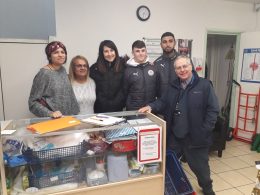 On Friday I visited the Food Stop Foodbank run by Action Homeless and met the amazing staff and volunteers that work there.
We all hope that we'll never need to visit a foodbank, but sometimes people can find themselves in a desperate situation. I am thankful to all the staff and volunteers who ensure people who find themselves without enough money to buy food, do not go hungry.
They told me they particularly need cooking oil, eggs, UHT milk, fruit & veg. If you can help one of our cities foodbanks, then please do get in touch with them.
On Friday I joined local carers at Age UK's Listening Event in Leicester. This event is one of a series they are running across the country to listen to the experiences of older people and their carers.
All the experiences and feedback from the carers will be brought together and form part of the Age UK's Green Paper on Social Care.
In Leicester today a group of carers told AGE UK the three biggest issues are: the need to listen to older people; give more support for stretched family carers who may work as well as being full-time carers; and the need for additional ring-fenced funding.
On Friday I brought together organisations from across Leicester to discuss how we are preparing for the introduction of Universal Credit.
With over 17,000 local people, possibly more, affected when Universal Credit is rolled out here in June, it is important we are doing all we can to support them. The problems that have been experienced in other parts of the country have not yet been resolved, and while I am calling on the Government to halt the rollout of Universal Credit, we must also have plans in place to support people.
Delays in payments have left families experiencing real hardships when moving to Universal Credit and some even facing the threat of eviction.
I am grateful to all the organisations that came along to the meeting and over the coming months we will continue to work together and support the people of Leicester West.