Articles
Today I attended the Leicestershire launch of the new Children's Air Ambulance.
The new Children's Air Ambulance will make such a difference to the lives of children and their families right across the country. The Children's Air Ambulance has now launched two new helicopters, one will be based in Doncaster and the other in Oxford. This means that they will now be able to transport more really poorly children to and from hospital.
The Children's Air Ambulance does not receive any government funding, they have been able to purchase these new ambulances from the donations of businesses and supporters. It is a remarkable achievement and I know that the staff and volunteers are rightly proud of what they have achieved.
On Friday I visited Beaumont Ley's Children's Centre to meet with mums who are receiving help and support from Leicester Mammas.
Leicester Mammas support local mums who are pregnant, new mums and parents from across the city and who want to breastfeed their babies.
The mums told me how vital the one-to-one support has been in helping them to breastfeed their babies and overcome some of the myths associated with breastfeeding.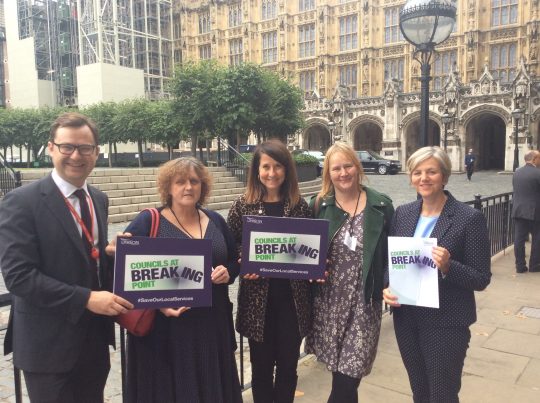 On 11 September, I met council workers and staff from trade union Unison to discuss the impact of Government funding cuts on local authority services. Research from Unison found less than 10% of council workers think local residents get the help and support they need from their council at the right time, while eight in 10 are not confident about the future of local services.
The Government needs to make new money available to fund council services properly and end this crisis. I am supporting Unison's Save Our Local Services campaign to demand more money is given to local government in November's Budget. Read more about the campaign here.
On Friday I chaired this month's Feeding Leicester Steering Group. At this month's meeting we looked back at the success of the Holiday Hunger project.
It was absolutely fantastic to hear that the project delivered over 32,000 meals to children across the city over the summer holidays – 10,000 more meals then were planned and many more than the 11,000 meals that were given out last year!!
I want to thank all the organisations, staff and volunteers who have made this possible.
Over the coming month's we'll be following closely the continued rollout of Universal Credit here in Leicester and looking at what more we can do to support local people who are struggling to make ends meet and ensure that no one goes hungry.