Articles
There are 100,000 people in Leicester and Leicestershire who are looking after a parent, partner, child or friend, including 8,952 in my constituency. I have long backed the calls from Carers UK for the introduction of up to 10 days of paid care leave a year.
New research from Carers UK has found more than 600 people a day give up work to look after a relative who is older, disabled or seriously ill, with nearly half a million people leaving their jobs to provide care in the last two years alone. You can read more about the research here.
On 4th February, I was delighted to meet with Carers UK and Centrica in Parliament to discuss their partnership to support working carers and develop new technology that will help families check on their loved ones.
Last year I visited Centrica's office in my constituency to meet staff there who are caring for sick and frail relatives and their managers. You can read more about my visit here.
Knife offences in Leicestershire have risen by 63% since 2010, yet we've been denied a share of £22 million funding from the Home Office's Early Intervention Youth Fund to deliver crime prevention programmes with young people and tackle serious violence. In January I wrote to the Home Secretary to challenge this decision and call for some of the remaining £5 million of unallocated funds to be spent in Leicestershire.
On 4th February, Labour secured an Urgent Question on knife crime and I called on the Home Office Minister to give Leicester the resources we need to tackle this growing problem.
The Government has finally published its draft Domestic Abuse Bill, two years after pledging to change the law. Whilst I welcome the steps the Bill will take to reform family courts and create a commissioner for tackling violence against women and girls, I have serious concerns about a number of key issues that have been excluded. The Bill fails to address how women in poverty are less likely to leave abusive relationships because of concerns about money and it doesn't recognise how migrant women who have suffered domestic abuse are not able to access financial support and are much less likely to seek help because they fear deportation.
In addition, the Bill only covers England and Wales, preventing it from being used to address human rights issues for women in Northern Ireland who are currently denied access to abortion. On 30th January, I challenged the Home Office Minister about the failures in this Bill.
You can read more about domestic abuse and the draft Bill here.
I had an amazing time on Friday visiting Holmfield Day Care Centre's Reminiscence Village. The village is mocked up as a 1940s/50s high street and offers people living with dementia a passage back through time.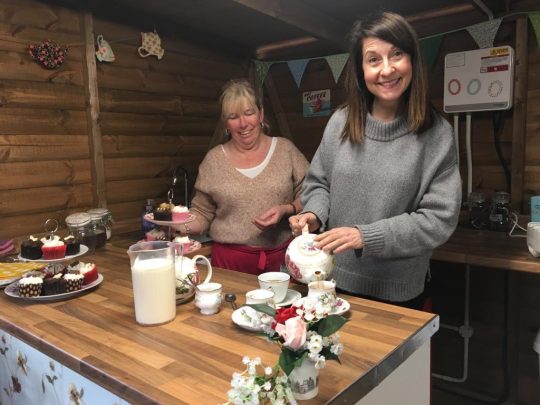 There are over 2,500 people living with Dementia in Leicester, projects like this can make such a huge difference to their daily lives.
But without the dedication of all the staff and volunteers none of this would have happened – so I'd like to thank each and every one of the them, especially Anne Byrne who came up with the idea and is up for this year's Leicester Live's Dementia Carer of the Year award!