Articles
I was honoured to have been invited to chair the Feeding Leicester Steering Group. Feeding Leicester is a really important project that will raise awareness of food poverty throughout the city and find ways to make sure everyone can access healthy and affordable food.
Lots of local organisations are involved in the project including De Montfort University, the City Council, Feeding Britain, Action Homeless, B-Inspired and many more.
Over the coming months we'll be working together to find new ways to support local people who are struggling to make ends meet.
As part of the Feeding Leicester project we have also been awarded additional funding to expand the holiday hunger programme. This means that this year over 22,000 meals will be given out to children from right across the city over the summer holidays.
I am proud to be part of this project and I look forward to updating you on our work over the months ahead.
I was very proud to host this year's Shared Lives Parliamentary reception on 20th June.
I have been a long-term supporter of the charity, which provides a network of family based care for adults who need support, including older people and those with learning disabilities. Shared Lives helps people to enjoy fulfilling lives by providing the love and support of a family.
One of the scheme's users, Meg, gave a very moving speech about the difference Shared Lives carers can make. Shared Lives carers opened up their home to Meg and the results have been life-changing. You can read Meg's speech here.
The theme of this year's event was ensuring fairness for carers, some of whom haven't had a pay-rise for over 10 years. Carers need to be provided with the training and support they need to carry on their amazing work.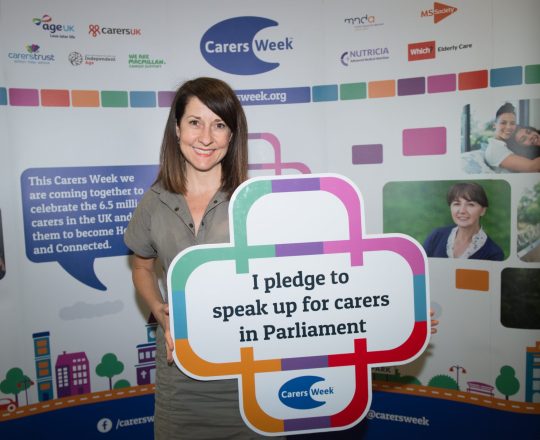 This week is Carers Week and I joined Carers UK to pledge that I will do all I can to support carers through my work in Parliament. There are 100,000 people in Leicester and Leicestershire who are looking after a parent, partner, child or friend, including 8,952 in my constituency. I am backing the call from Carers UK for the introduction of up to 10 days of paid care leave a year. I pledge to encourage more businesses in Leicester to provide paid care leave to their staff, and to continue pressing the Government to act now and support the UK's three million carers.
We all have a responsibility to protect our young people by making the online world as safe as possible, including digital companies. As a member of the Science and Technology Select Committee, which is undertaking an inquiry into the impact of social media and screen-use on young people's health, I know there are positives about social media use but also real risks. That's why I welcome the Telegraph's campaign to raise awareness of the issues facing young people through the increasing use of social media.
Read the Telegraph article on its campaign here and read more about the Science and Technology Select Committee inquiry here.