Articles
I'm holding a series of coffee mornings across the constituency where people can come and chat to me and their local councillors about any issues or concerns they may have about what's happening locally or nationally.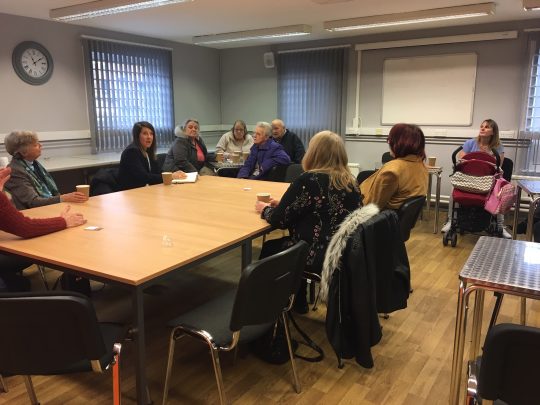 Last Friday, 1st March, I was in the Braunstone Park area where we had a really good discussion about the impacts of cuts to our local bus services, which are making it even harder for older people to access vital services such as visits to their GPs. We also talked about the trend of young people using mini motorcycles, the need for increased neighbourhood policing and more things for young people to do in the area.
Over the coming weeks I'll be holding more coffee mornings across the constituency, so look out for your invitation in the post, or contact my office on 0116 204 4980 if you'd like to come along!
I am deeply concerned that Valeo Foods UK's Big Bear Confectionery has informed its employees of plans to close the Fox's Glacier Mints factory on Sunningdale Road in my constituency. You can read more about the story here.
This could mean more than 200 members of staff are at risk of losing their jobs, which is devastating news for our community.
I have called on Valeo to protect jobs at the site or redeploy staff to sites elsewhere in the country. I have also urged the company to provide training and support to any staff member who cannot be redeployed to help them find alternative work. I am also in close contact with trade unions.
Anyone who is affected by this news and needs support should contact my office on the Narborough Road and I will do all I can to help.
There are 100,000 people in Leicester and Leicestershire who are looking after a parent, partner, child or friend, including 8,952 in my constituency. I have long backed the calls from Carers UK for the introduction of up to 10 days of paid care leave a year.
New research from Carers UK has found more than 600 people a day give up work to look after a relative who is older, disabled or seriously ill, with nearly half a million people leaving their jobs to provide care in the last two years alone. You can read more about the research here.
On 4th February, I was delighted to meet with Carers UK and Centrica in Parliament to discuss their partnership to support working carers and develop new technology that will help families check on their loved ones.
Last year I visited Centrica's office in my constituency to meet staff there who are caring for sick and frail relatives and their managers. You can read more about my visit here.
Knife offences in Leicestershire have risen by 63% since 2010, yet we've been denied a share of £22 million funding from the Home Office's Early Intervention Youth Fund to deliver crime prevention programmes with young people and tackle serious violence. In January I wrote to the Home Secretary to challenge this decision and call for some of the remaining £5 million of unallocated funds to be spent in Leicestershire.
On 4th February, Labour secured an Urgent Question on knife crime and I called on the Home Office Minister to give Leicester the resources we need to tackle this growing problem.