Articles
Earlier this week I took part in an event set up by Leicester City Council as a part of their anti-poverty strategy to discuss the impact of Covid-19 on those experiencing poverty in the city. Other attendees included members of Feeding Leicester, a group I chair.
It was fascinating to hear the ideas shared by other attendees, as well as what they think has gone well during lockdown, and what can be learnt from.
I will continue to support the fantastic work done by Leicester City Council and the Feeding Leicester Group to support those in hunger.
I was really glad to help out doing food deliveries with
E2
recently.
E2 is a charity operating in Abbey and Beuamont Leys wards. They
have already received over 800 support requests, delivered around 600 emergency food parcels and made around 600 support calls to vulnerable isolated people during this crisis.
They are an amazing group of staff and volunteers, working so hard to help those who need it most. It was great to be able to see them in action and lend a hand.
You can find out more about
E2
, including how you can get involved,
here.
In the last week I have been contacted by several people who are interested in volunteering to help support those in their local area. This is fantastic and shows the real community spirit we have in Leicester.
Leicester City Council are working in partnership with Voluntary Action Leicestershire and food banks to organise a unified response.
Some examples of how you could help are:
Reaching out to people in the community and providing information and advice
Dog walking if people are unable to get out themselves
Providing a friendly phone call service to help people that may be isolated or lonely
Picking up shopping for those that can't do it easily themselves
Posting mail
If you are interested in volunteering to support your local community you can sign up here.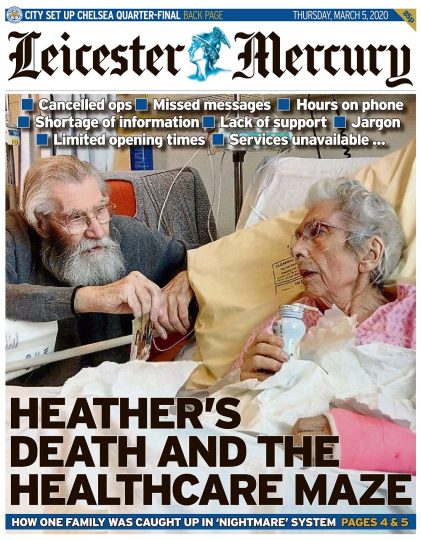 One of my constituents, Dave Towers, has had a horrible time trying to navigate the NHS system to find the correct care for his parents. His story is truly heart breaking and I am appalled at what they have all been through.
It is completely unacceptable that in the hardest of times, when a family member is seriously ill, people are having to try to navigate a maze of departments, each one telling them something different.
This is sadly all too common and it has to change. We need one system, with one point of contact, where the services cooperate and work around the needs of the family, rather than the family having to find the service they fit the criteria for.
I have already raised this case personally with the Chief Executive of Leicestershire's hospitals and I will be bringing all the different parts of the health and care system together to see what lessons can be learnt from what has happened and so we can start putting things right.
You can read the full story here.