Articles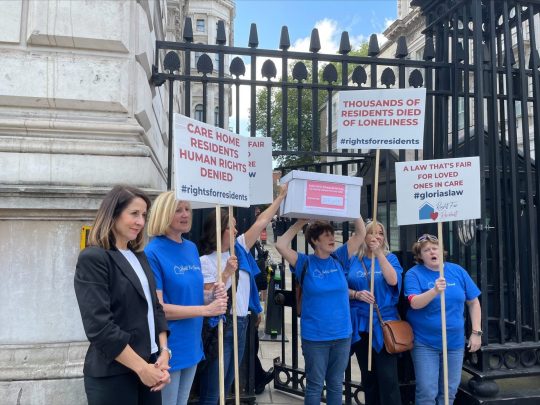 I was so proud to stand alongside the amazing Rights for Residents today at 10 Downing Street, as they handed in their petition to allow care home residents the legal right to see their loved ones.
Over 250,000 people have signed the petition to date – we will not stop until it happens.
Add your voice to their petition
here
.
Last week I met with residents from a block of flats that has been built using materials that are no longer deemed safe following the Grenfell Tower fire.
These residents have seen their home insurance costs increase by as much as 700%, and that they have had to pay for an advanced fire alarm system, leaving people at their capacity and close to bankruptcy. They have said they have tried to have the unsafe materials replaced but the government support isn't enough, and the work is unaffordable.
This is unacceptable. These people own flats that they thought were safe but now, by no fault of their own, are having to pay huge sums of money. I will therefore be writing to Robert Jenrick, the Secretary of State for Housing, Communities and Local Government to raise this matter again.
Since Boris Johnson first promised he had a plan to 'fix the crisis in social care once and for all' more than 23 months ago, 2 million people have had their requests for care turned down, care workers and families have been stretched to breaking point, and thousands of people have had to sell their homes to pay for their care.
After a decade of failure, the time for Conservative excuses has long passed – Ministers must bring forward plans as a matter of urgency, and provide all older and disabled people with the dignity and security they deserve.
Read more on Sky News.
I recently had the chance to visit the PlayFit after-school club at Manor House Community Centre.
After-school clubs are so important for children, and they help parents balance work and family life – thanks for the great work you do!