Articles
Over 30 per cent of vulnerable families here in Leicester could be missing out on the Healthy Start vouchers that they may be entitled to.
Families with children under 4 and pregnant women are entitled to the vouchers to help them buy fresh fruit, vegetables and milk. Pregnant women can also access vouchers to enable them to buy vitamins to help them through their pregnancy.
Many of our local supermarkets are not listed on the Healthy Start website, meaning local families may not know when they can use their vouchers.
I have written to the Chief Executives of all major supermarkets and the managers of local stores to make sure that they accept the vouchers, to ensure they train their staff in accepting and promoting the vouchers and to ask them to ensure their stores are listed on the Healthy Start website.
You can check if you're entitled to Healthy Start vouchers here www.healthystart.nhs.uk/
I have today, Wednesday, called on the Government to take urgent action after new figures were released that show over 40 per cent of children in Leicester are growing up in poverty – which is a rise of almost three per cent in the last year. Here in Leicester West we have over 11,600 children living in poverty.
These shameful figures lay bare this Government's failure to tackle child poverty, harming their life chances and our country's future success.
Children living in poverty are more likely to start school months behind children from better off backgrounds. They are also less likely to do well at school, go onto further education, earn the same salaries as their better off peers and therefore find a way out of the poverty trap.
Poverty doesn't just affect families on benefits, it's also working parents who are increasingly finding themselves and their children trapped in poverty. The shambolic introduction of Universal Credit and the rise in zero hours contacts alongside increasing rents and the rising cost of living mean more and more families across Leicester are struggling.
I believe that no child should be growing up in poverty. The Government must wake up to this crisis and take urgent action to ensure every child has an equal chance in life.
I was extremely proud to open the new outreach office for homelessness charity Emmaus on Hinckley Road on Friday.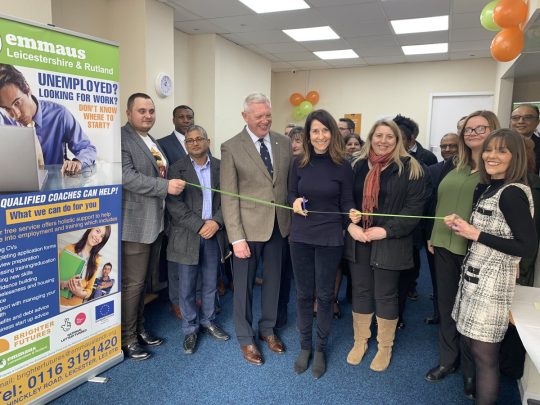 Emmaus is a fantastic charity that is dedicated to giving people who have been homeless the opportunity to rebuild their lives and get back on their feet.
Their brilliant new "Brighter Futures" project is there to provide even more help for people to find work and training with personalised support and advice – from help writing CVs, confidence building, housing advice and benefits and debt advice.
If you'd like to learn more about the project visit Emmaus Leicestershire
The Government has announced that from this spring disabled pensioners will no longer have to have their Personal Independence Payments (PIP) awards repeatedly reviewed unless their circumstances change. The Work and Pensions Secretary also announced her plans to merge the work capability assessment process for PIP, Employment and Support Allowance and Universal Credit from 2021. You can read more about the changes here.
However, I am seriously concerned that simply merging these assessments will not deal with their underlying problems. The current system clearly has serious flaws. More than 70% of all PIP assessments that are appealed have that assessment overturned by a tribunal, rising to 83% for people with multiple sclerosis.
On 6th March I questioned the Minister for Disabled People about what the Government would do to address these worrying failures in the assessment process.