Articles
The Government has finally published its draft Domestic Abuse Bill, two years after pledging to change the law. Whilst I welcome the steps the Bill will take to reform family courts and create a commissioner for tackling violence against women and girls, I have serious concerns about a number of key issues that have been excluded. The Bill fails to address how women in poverty are less likely to leave abusive relationships because of concerns about money and it doesn't recognise how migrant women who have suffered domestic abuse are not able to access financial support and are much less likely to seek help because they fear deportation.
In addition, the Bill only covers England and Wales, preventing it from being used to address human rights issues for women in Northern Ireland who are currently denied access to abortion. On 30th January, I challenged the Home Office Minister about the failures in this Bill.
You can read more about domestic abuse and the draft Bill here.
I was pleased to welcome Heidi Allen and Frank Field to Leicester recently to hear from residents, charities and organisations about the impacts of Universal Credit here in Leicester West.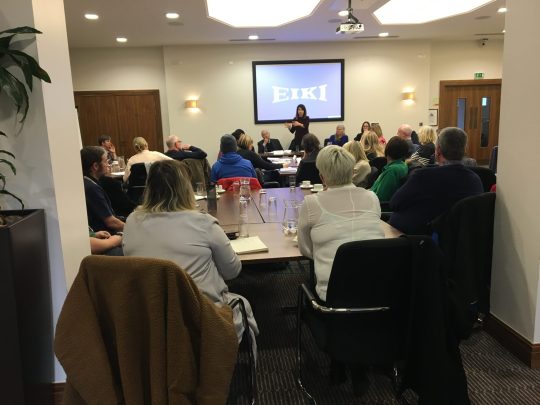 As trustees of Feeding Britain, Heidi and Frank are travelling the country to listen to people who have been affected and learn more about what can be done to support vulnerable families and I was delighted that Leicester was the first stop on their tour.
During their time in Leicester they visited E2's foodbank and heard from local residents who are struggling to make ends meet, including one lady who is struggling to survive on her pension and support her son who recently suffered a stroke and is being told he is fit enough to take a job over 40 miles away! During their visit I chaired a meeting of the Feeding Leicester group who shared their experiences of how they are supporting vulnerable families from across the city.
Today I visited Money Matters in Leicester to find out more about how they are supporting people living in Leicester West who are facing hardship after moving onto Universal Credit.
They told me about clients who find it difficult to complete the forms, delays in people receiving their first payments and how some people are being left with just £50 a week to cover all their bills and buy food. They also told me about the other work that they do in helping support local people who find themselves in debt and feel like they have nowhere to turn.
The charity is staffed completely by dedicated volunteers who give up their time to support others who are facing difficult times. If you find yourself in debt and have nowhere to turn, then please get in touch with them and see if they can help. You can find out more here www.moneymattersleicester.org
Liz Kendall MP calls for rollout of Universal Credit to be stopped

Watch my question to the Government: Ministers talk as if all the lessons about Universal Credit have been learnt but the evidence in Leicester shows this simply isn't the case. One in five people are still not receiving their full payment within five weeks. Since UC was introduced, Leicester's Action Homeless Foodstop has seen a 20% increase in the number of people being referred. Rollout of Universal Credit must be stopped and a fundamental review carried out.

Posted by Liz Kendall on Wednesday, 9 January 2019
On 8 January Labour secured an Urgent Question in Parliament following reports that the Government has delayed a vote on moving 3 million people currently claiming benefits including Housing Benefit, Jobseeker's Allowance and Employment and Support Allowance – known as 'legacy' benefits – onto Universal Credit, and has instead decided to pilot this for around 10,000 people. I challenged the Minister on the continuing problems with Universal Credit that we are seeing in Leicester and called on the Government to stop the rollout and secure fundamental reforms.