Articles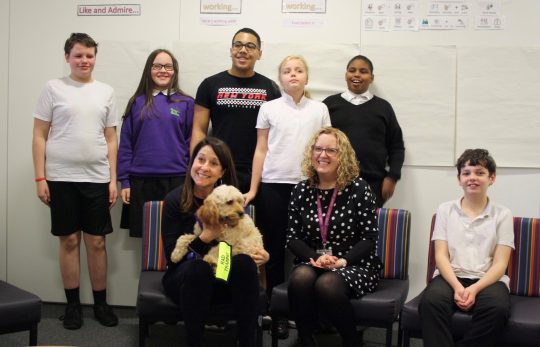 On Friday 28th February I visited Ellesmere College, a special school for students aged 4-19 in Leicester, where I met members of the School Council and Ted, a mental health assistance dog.
Ted, a 7-month-old Cavapoo puppy, has been at Ellesmere College since he was 12 weeks old and listens to children read in the new school library. Once fully trained, Ted will be able to accompany nervous young people on trips into the community and will continue to support children talking about their feelings where they wouldn't be able to open up to a person.
Young people's mental health is so important and those with special educational needs face additional challenges. I am really proud of the fantastic things Ellesmere College is doing to tackle this problem head on.
I was delighted to welcome the school council from Glebeland's Primary School to Parliament last week. The students had a tour of the House of Commons and the House of Lords, and I joined them afterwards to answer their questions and speak to them about what it is like to be an MP.
I loved listening to their views on the issues that matter most to them, and it was encouraging to hear that many of them would like to be MPs themselves one day!
If you are interested in visiting with your school, I would urge you to contact Parliament's fantastic Education Centre
here.
I recently visited New College Leicester to help launch their "Tins for the Tenth" campaign to feed at least 10% of the homeless population.
According to the housing charity Shelter, at least 280,000 people in England are homeless with thousands more at risk of being homeless, including 3,700 people here in Leicester.
The students at New College plan to ask schools from across the city to help them collect the tins which will be distributed amongst various homelessness projects across the city. They also want to use the "Tins for the Tenth" campaign to help raise awareness amongst young people about the root causes of homelessness and what can be done to tackle the problem.
I am so proud of these students who are doing a fantastic job and I would strongly encourage other schools to get involved.
I recently visited New College Leicester and was delighted to open their amazing new tennis & netball courts with Former England Rugby player, Rory Underwood MBE, and Police and Crime Commissioner, Lord Willy Bach.
The courts sit alongside other fantastic facilities and are available for use by local primary schools as well as the wider community.
I think encouraging and supporting all our young people to take part in sport is really important – for their confidence, aspirations and teamwork as well as their health and fitness. Thank you to Sport England and England Netball for helping to make this happen.