Articles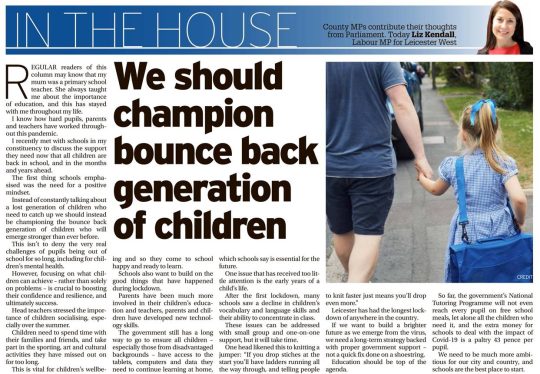 In this month's Leicester Mercury column, I talk how we must build a brighter future for our children as we emerge from this pandemic. Education must be top of the agenda. Right now, the Government's National Tutoring Programme won't even reach every pupil on Free School Meals, and the extra money for schools to deal with the impact of Covid-19 is a paltry 43 pence per pupil.
Leicester has had the longest lockdown of anywhere in the country. If we want to build a brighter future as we emerge from the virus, we need a long-term strategy backed with proper Government support – not a quick fix done on a shoestring.
I recently spoke in a Westminster Hall Debate to mark 'World Social Work Day 2021'. I thanked the 100,000 social workers in the UK, including the 320 in Leicester, for their hard work, passion and commitment to supporting people in our communities.
Social workers have faced huge additional pressures during the pandemic which have added to the challenges brought about by a decade of cuts to council budgets totalling £8 billion. The Government must better support social workers and the people they support. I talked about 3 important ways it can do this.
First, the Government must act to tackle the disgraceful rates of poverty in our country which mean a staggering 40% of children in parts of Leicester West are growing up poor. We know that most parents in poverty are doing their very best, but for those who are already struggling, poverty can make things so much harder.
Second, the Government must finally act on the unacceptable level of people with learning disabilities and autism living in hospital settings due to a lack of community care.
Finally, over 18 months since he promised he had a plan for fixing adult social care, the PM must now bring forward his proposals for social care reform.
Social workers will know all too well the impact of the Government's failures in each of these areas. They deserve better.
Today is Young Carers Action Day, an annual campaign, ran by Carers Trust to raise awareness about the UK's 800,000+ young carers.
This year's focus is on the amazing skills young carers gain through caring – like resilience, time management and empathy – which are so valuable in higher education and the workplace.
You can read more about the work of young carers here- Facts About Young Carers | The Children's Society
Information and support for young carers is available here- Help & Info – Carers Trust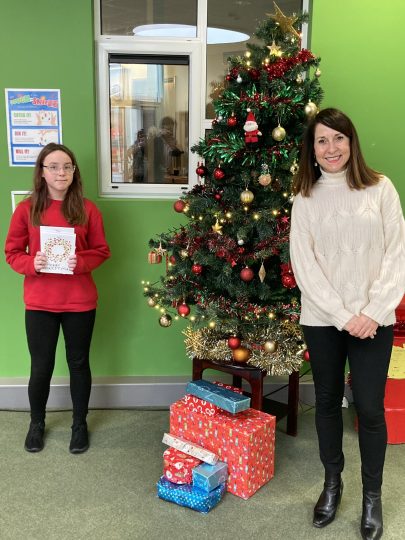 Today I announced the winner of the competition to design my official Christmas card for 2020.
We had lots of fantastic entries, but I was pleased to announce Autumn Beckett, aged 9, from Braunstone Frith Primary School is this year's winner. I thought her design was really uplifting, and would help spread some cheer during these difficult times.
I hope that we can now look forward to a happier, healthier and more prosperous 2021 where we can properly reunite with family and friends after difficult year we've had as a city.
Congratulations to Autumn and all those who took part this year!