Articles
I visited New College Leicester today to discuss the measures they've put in place to keep students safe from coronavirus.
Watch BBC East Midlands Today's coverage of the story above.
I was honored to record a message for the 180 medical students at the University of Leicester who graduated today.
I am very proud of the contribution they will make both in the years to come and at this very difficult time, and want to thank them from the bottom of my heart!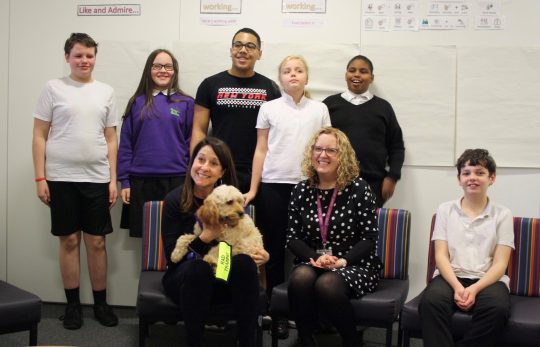 On Friday 28th February I visited Ellesmere College, a special school for students aged 4-19 in Leicester, where I met members of the School Council and Ted, a mental health assistance dog.
Ted, a 7-month-old Cavapoo puppy, has been at Ellesmere College since he was 12 weeks old and listens to children read in the new school library. Once fully trained, Ted will be able to accompany nervous young people on trips into the community and will continue to support children talking about their feelings where they wouldn't be able to open up to a person.
Young people's mental health is so important and those with special educational needs face additional challenges. I am really proud of the fantastic things Ellesmere College is doing to tackle this problem head on.
I was delighted to welcome the school council from Glebeland's Primary School to Parliament last week. The students had a tour of the House of Commons and the House of Lords, and I joined them afterwards to answer their questions and speak to them about what it is like to be an MP.
I loved listening to their views on the issues that matter most to them, and it was encouraging to hear that many of them would like to be MPs themselves one day!
If you are interested in visiting with your school, I would urge you to contact Parliament's fantastic Education Centre
here.