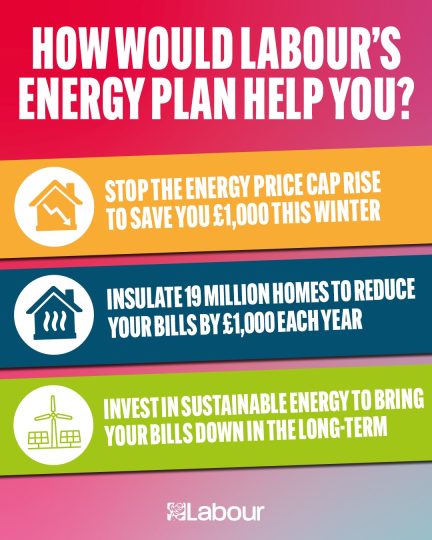 Labour has released our plan to help address the Tory cost of living crisis. Labour would stop bills rising now, and create sustainable energy for the future – helping people get through the winter while providing the foundations for a stronger, more secure economy.
Right now, oil and gas providers are making eye-watering profits, while families struggle to heat their homes. Labour's fully-funded £29bn plan would prevent the energy price cap rising through the winter, and we would pay for it by putting a further tax on these oil and gas giants. This would bring inflation down by 4%, making it less likely that interest rates will rise in the future, and easing the burden on households and businesses.
We would also insulate 19 million homes across the country through our Warm Homes Plan – a plan we originally announced over a year ago. If the Government had acted on Labour's proposals, they could have insulated 2 million of the coldest homes before this winter, saving the typical household an additional £1,000 every year on their energy bills.
After 12 years of Tory government that has failed to prepare and refused to invest, only a Labour government can give Britain the fresh start it needs.
Read more about Labour's announcement on the BBC.