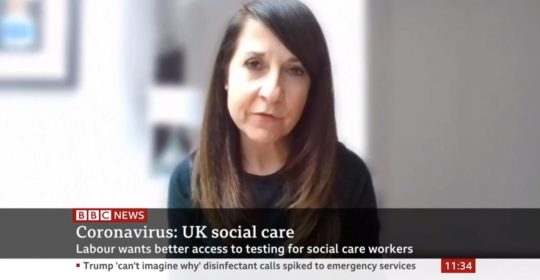 Today the ONS and CQC published statistics showing one third of deaths due to Covid-19 were in care homes in the week ending 17th April. These new figures show the devastating impact Covid-19 is having on care homes, and will be desperately worrying for residents, their families, and staff.
Urgent action is needed to get a grip of this problem. That is why I have today written to the Health Secretary outlining six areas where further steps should be taken to help protect care users and staff, and help bring these appalling death rates down.
The letter calls for action on:
A new intermediate care strategy for people being discharged from hospital who test positive for Covid-19, and to support struggling care homes
Improved access to, and priority testing for social care workers
Guaranteeing all care workers get the PPE they need: for domiciliary care workers and Personal Assistants employed via Direct Payments, as well as staff in residential care
Ensuring social care has "whatever resources it takes" to deal with the Covid-19 pandemic
New leadership for social care sector, with a new Chief Care Officer
Daily reporting of Covid-19 deaths outside hospital, including in care homes.
You can read the full letter here.