Liz urges local businesses to protect terminally ill employees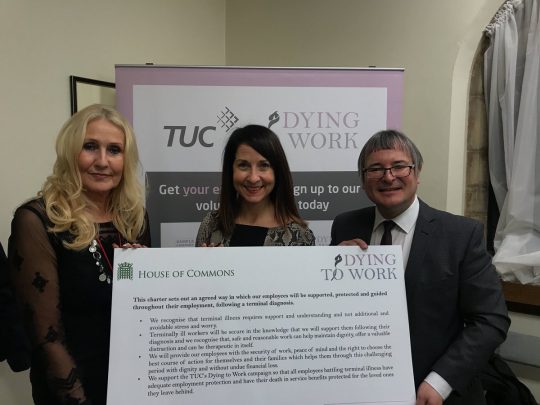 I was proud to sign the GMB and TUC's "Dying to Work" charter in Parliament on 12th December.
This is a really important campaign to make sure employees with a terminal illness can't be dismissed because of their condition. It was set up after sales manager Jacci Woodcock was forced to leave her job in the East Midlands when she was diagnosed with terminal breast cancer.
It is deeply unfair that people with terminal illnesses can be forced out of their jobs, which not only causes them enormous emotional strain but means their loved ones will lose the death in service benefits earned through a lifetime of hard work.
That is why I have written to 14 of the largest businesses in my constituency to ask them sign up to the campaign's charter, which commits employers to providing support and ongoing employment for any of their workers that become terminally ill.
You can read more about the 'Dying to Work' campaign here and more about the GMB's work here.