Articles tagged with: Braunstone Park and Rowley Fields
Articles
This Friday I had a busy day in the constituency, meeting with constituents, local groups and organisations working hard to tackle the impact of the cost of living crisis.
Ward councillor Su Barton, my team and I were out and about in Braunstone Park, speaking to constituents about their concerns over energy bills, as well as crime and housing concerns.
Food banks are seeing sharply increasing demand as more people struggle with the cost of living. I brought together Leicester West's food bank organisers for a productive roundtable meeting at Manor House, to discuss the support they'll need this winter to continue helping their communities through a very difficult period.
I also paid a visit to the Brite Centre, meeting manager Elaine and her hard-working team to find out more about the fantastic range of activities and community services they offer.
As with all of Leicester City Council's libraries, the Brite Centre is a 'warm space' this winter , where anyone struggling to heat their home can come to sit and spend time in a warm and welcoming environment.
The Brite Centre also has a wealth of resources – including access to computers and learning sessions, as well as lots of information on further support, so its well worth a visit.
Find out more here about Leicester's libraries and warm spaces
This week, after dropping into a regular coffee morning at St Patrick's Church, Beaumont Leys Lane, Sarah Russell, Liz's MP representative whilst she is on maternity leave, visited some of the fantastic activities available to young people during the school half term holidays.
Sarah visited the Grove, in Braunstone Park, to see a sport and dance camp which has been organised by b-inspired, as well as the Braunstone Adventure Playground.
Last week Sarah also visited a pop-up pantry which provided food for families during the half term holiday. You can read more about that here.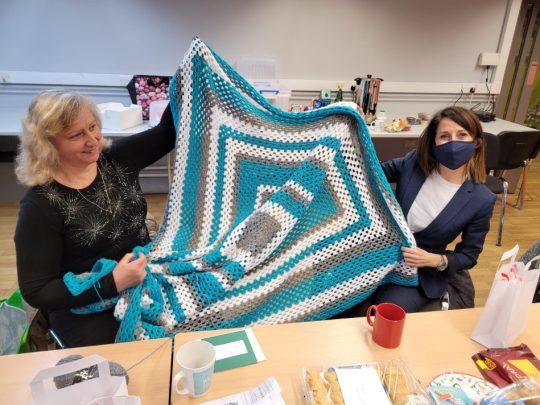 Last week I popped by the "Sew and So" craft club at The Oak Centre where they were making some fantastic creations!
There are tons of great activities going on at the Oak Centre including after school clubs, chess club and dog training. You can find more information here.
I was delighted to join the Oak Centre's Lunch Club on Friday. This fantastic initiative brings together people from across the community to share in a lovely home cooked lunch – the iced buns were very popular at this Friday's club.
Thanks so much to everyone at the Oak Centre for inviting me to join them. If you'd like to find more about what's happening at the Oak Centre then visit www.oakcentre.org.uk