Articles tagged with: leicester west
Articles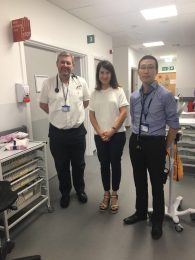 On Friday I visited the new A&E department at Leicester's Royal Infirmary.
A&E consultant Dr Lee Walker and Geriatrician Dr Richard Wong showed me how they are working to improve care for frail elderly people.
Both have stressed to me the huge importance social care and community services can play in helping people live longer in their own homes and reduce the pressure on our A&Es.
I was honoured to officially open Anicca Digital's beautiful new building on Frog Island here in Leicester.
Anicca Digital is a fantastic, expanding company that works with local universities to help young people get high quality jobs.
Huge future for #DigitalMarketing here in #Leicester!
I was absolutely delighted to meet with Leicester's newly elected young people's council yesterday.
They are such an inspirational group of young people and I was pleased to see so many young women standing for election and representing Leicester!
I loved seeing everyone's enthusiasm and hearing their stories on why they stood for election.
They asked me some great questions including what inspired me to stand as an MP, what my proudest achievements are and also what things I would change for the future.
I wish them every success during their two year term and I will be following them to see what exciting campaigns they come up with!
In my latest Leicester Mercury column I write about how the winter crisis has shown our NHS and social care services desperately need an immediate injection of cash, and a long-term plan for the future. But Innovative work done by the Braunstone Blues shows what can be done to keep people safe and healthy, while reducing the demand on 999.
Read the column here