Articles tagged with: leicester
Articles
I am thrilled to congratulate Leicester College on being recognised as a Centre of Excellence for maths!
The college is the only Centre of Excellence in maths in the whole of Leicestershire and only the second one in the whole of the East Midlands!
This is fantastic news and a real testament to dedication of the leadership team and teachers at the college who work so hard to support those students who are struggling to understand maths.
It is absolutely essential that young people leave education with their GCSE and a good understanding of maths if they are to succeed and continue to grow in their future careers.
This recognition will equip the college with extra resources to provide help and support to even more students, not just from the college but right across our city and the region.
I am extremely proud to have signed Leicester's Homelessness Charter. 
The Charter brings together organisations from right across the city, including charities, businesses, the City Council, health services, the police and faith groups, to commit to work together to tackle homelessness. 
The number of people sleeping rough in our city has doubled since 2010. But that only tells half the story. People can find themselves homeless if they have no where to stay and that also includes people who are sleeping on a friend's sofa, people who are staying in a hostel and people who have become homeless because of abuse of violence. 
No one should be sleeping rough on our streets or have no where to call home. By working together we can ensure that we prevent homelessness in our city. 
You can find out more about the charter here.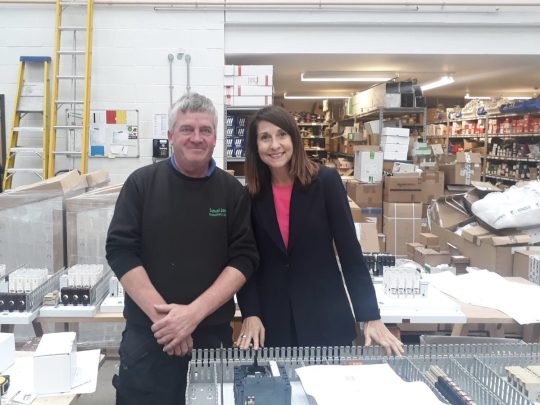 I loved visiting Samuel James Engineering last week. Samuel James is such a fantastic company providing switchgear and control systems for the railway industry.
The company are looking to expand and I am hoping to help them get space they need so we can ensure this great company has a long future here in Leicester West!
On Friday I held my second consultation event with local students about the impacts of social media and screen use on their health.
This time I was at Fullhurst Community College and had a really interesting chat with the students. They told me all the things they thought were good and bad about social media, who they take advice and learn about social media from and how to keep themselves safe online.
Over the coming weeks and months I will be carrying out more consultation events with students across Leicester West. The feedback that I gather will be submitted to the Science and Technology Committee's inquiry into the impacts of social media and screen use on young people's health.