Articles tagged with: liz kendall mp
Articles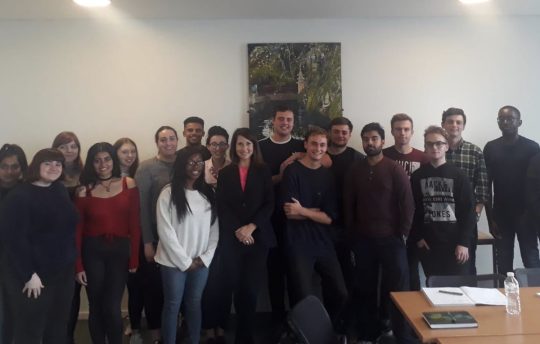 I was delighted to have been invited to the University of Leicester last week to talk to students about the role of an MP and how Parliament works.
I had a great time and really enjoyed answering their questions. They asked me about the role of an MP, here in Leicester and in Parliament and there were lots of questions about Brexit and how leaving the EU will impact young people.
I look forward to returning soon and hearing more from students at the University!
On Friday I visited Beaumont Ley's Children's Centre to meet with mums who are receiving help and support from Leicester Mammas.
Leicester Mammas support local mums who are pregnant, new mums and parents from across the city and who want to breastfeed their babies.
The mums told me how vital the one-to-one support has been in helping them to breastfeed their babies and overcome some of the myths associated with breastfeeding.
On Friday I chaired this month's Feeding Leicester Steering Group. At this month's meeting we looked back at the success of the Holiday Hunger project.
It was absolutely fantastic to hear that the project delivered over 32,000 meals to children across the city over the summer holidays – 10,000 more meals then were planned and many more than the 11,000 meals that were given out last year!!
I want to thank all the organisations, staff and volunteers who have made this possible.
Over the coming month's we'll be following closely the continued rollout of Universal Credit here in Leicester and looking at what more we can do to support local people who are struggling to make ends meet and ensure that no one goes hungry.
On Friday I held my second consultation event with local students about the impacts of social media and screen use on their health.
This time I was at Fullhurst Community College and had a really interesting chat with the students. They told me all the things they thought were good and bad about social media, who they take advice and learn about social media from and how to keep themselves safe online.
Over the coming weeks and months I will be carrying out more consultation events with students across Leicester West. The feedback that I gather will be submitted to the Science and Technology Committee's inquiry into the impacts of social media and screen use on young people's health.