Articles tagged with: New Parks
Articles
Liz's MP representative Sarah Russell caught up with New Parks Community Hub Director Jo Randall as well as the brilliant Premier League Kicks team, which runs community football sessions on the Hub site.
The Hub is a fantastic community centre for New Parks – Jo and her team have created a really welcoming environment at the centre, which hosts an incredible range of activities and events, including their Team Cafe, Team Tots sessions, and regular housing surgeries, as well as lots more.
Sarah also had the chance to see the Hub's new football pitch in action and meet the Premier League Kicks team. They run regular community football sessions from the site, for both children and adults. They welcome players of all abilities and sessions are free of charge- to find out more about the Kicks programme see here https://www.premierleague.com/this-is-pl/the-communities/409192Premier League Kicks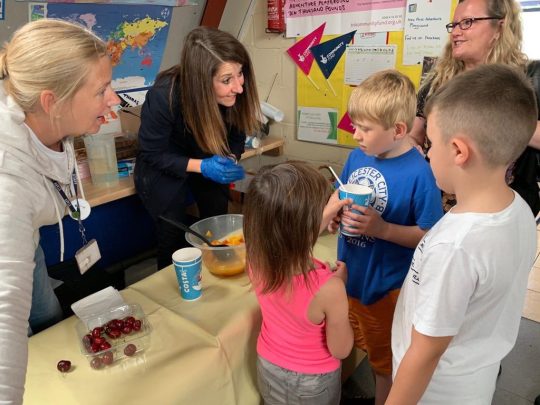 Today I visited New Parks Adventure Playground on the first day of our brilliant holiday hunger scheme.
Despite not receiving any Government funding this year to boost our fantastic project and reach even more children, we are determined to ensure that no child goes hungry over the summer holidays.
The holidays can be a real struggle for many families, especially those where children receive free school meals. That's why it's fantastic to see so many community organisations and volunteers from across the city coming together to ensure every child has access to a healthy lunch over the holidays.

On my most recent trip to New College in New Parks, I got to see how Labour's Building Schools for the Future programme has transformed the school.
£8.4million has been invested in new classrooms, a sports block, performing arts centre and sixth form block. The programme is much more than just bricks and mortar and the students I met told me that these new state of the art facilities have made a huge difference to their learning.
I also got to congratulate a group of students for the work they'd done to raise funds for the Leicester Royal Infirmary's Our Space Appeal, which supports the Children's Cancer Ward.
New College is within the top 10% of schools nationwide for outstanding continuous improvement and I'll always support their work to boost aspiration and attainment for their 900 students.
High energy bills are already a huge concern for my constituents, which is why I have been campaigning for Labour's energy price freeze. 
But I recently came across a particularly appalling case when Susan Holmes from New Parks contacted me. The energy company e.on were charging Susan for a gas meter which she had never used and couldn't use because her flat only has electricity.
I took the matter up with e.on's Chief Executive and the company agreed to write off the charges and to remove the metre. You can read coverage in the Mercury here.
I'm now writing to residents in the six major blocks of flats off Aikman Avenue, to raise awareness of the issue and to try and assist anyone else in a similar situation. Please get in touch it you've been effected.