Articles tagged with: schools
Articles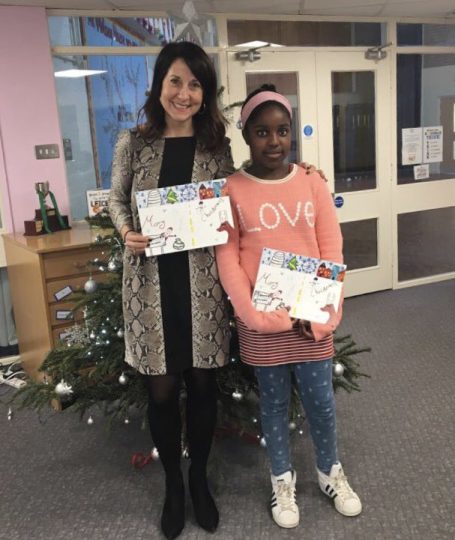 On Friday, 15th December, I was delighted to announce the winner of my Christmas card competition.
It was really difficult choosing a winner from all the fabulous entries I received, but one design stood out with her 'Welcome to Leicester' Christmas scene. I was really proud to present Asha Omar from Wolsey House Primary School with tickets to see Scrooge at the Curve and a book token for designing the winning entry.
Congratulations too to the runners up: Avah from year 3 at Forest Lodge Community Primary; Joanna from class 5L at Braunstone Frith Primary School and Chesley from year 4 at Beaumont Lodge Primary School.
Thank you to all the children that took part, to all the infant, junior and primary schools in leicester West and a big thank you to this year's sponsors!
I was delighted to meet with last year's Slater Primary School council members on Friday. They told me about all the work they had done in achieving their Bronze status in the Food for Life awards.
Not only did they work with the teachers in learning about healthier food and developing healthier school meals, but they also talked to other children in the school about the importance of eating healthy food.
They learnt all about where our food comes from and even grew some of their own.
They should be very proud of the work they've done and the award they've received. Next time I visit I'm hoping they'll let me try out some of their healthy school dinners!
On Friday I visited Forest Lodge Academy where I joined students who were taking part in the Premier League Reading Stars project – a project run by Leicester City Football Club.
The 'Premier League Primary Stars' programme brings together football and literacy with a range of classes and activities which are delivered across the City.
Along with other projects LCFC run right across our communities, the aim of the programme is to give young people opportunities to help develop their skills, boost their confidence and to develop community cohesion.
I was delighted to have been invited along to join students who were taking part in one of the classes and learn more about the scheme from both the coordinators and also the students taking part, who clearly were enjoying the sessions.