Articles
There are 31,000 unpaid family carers in Leicester. They are the unsung heroes and heroines of our community yet too many face a desperate daily struggle to look after their elderly or disabled loved ones.
Carers tell me how hard it is to get all the different services working together and that they often have to take hours off work to try and sort things out. Getting a break from caring can be nigh on impossible, and carers' own health and well-being can suffer as a result.
It is completely unacceptable that the Tories have cut £7.7bn from adult social care since 2010. We need to end these cuts, put in place a long-term funding plan for social care, and give family carers the support they need and deserve.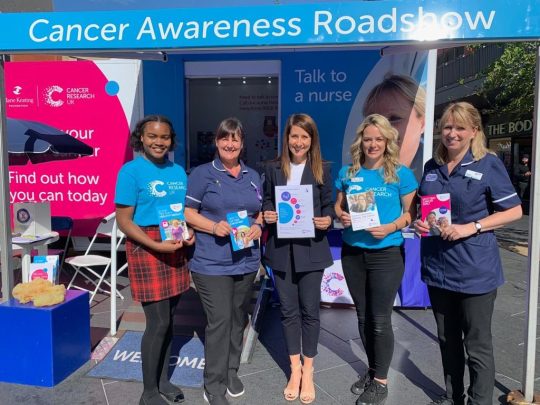 Absolutely delighted to have popped into Cancer Research UK's roadshow in Leicester City Centre recently where they were advising people on how to recognise the symptoms of cancer and what we can all do to prevent it in the first place.
Spotting cancer early means treatment is more likely to be successful. If you're worried about cancer then you can get more advice here: https://www.cancerresearchuk.org/
On July 11th I spoke at a Resolution Foundation event on tackling the crisis in social care alongside the Liberal Democrat MP Norman Lamb and the Conservative MP Damian Green.
I argued that we must set out a bold and positive vision for social care which promotes wellbeing and connections with the wider community, which meets the needs of adults with disabilities as well as older people, and which supports unpaid family carers alongside the paid care workforce. We need a cross party consensus on how to fund this vision so that it lasts for the long term. This must be fair across the generations as well as across different income groups.
You can read more – and watch the whole event – here.
In my Leicester Mercury column this month I talk about how feelings of loneliness and isolation can have a huge impact on our mental and physical health and how taking away free TV licences for the over 75s is short-sighted and will do nothing to tackle the growing problem of loneliness.
The blame for this firmly lies with the Government and I will continue to campaign against this decision and for the investment in local services and support that make such a difference to my constituents' lives.
You can read my full column here.