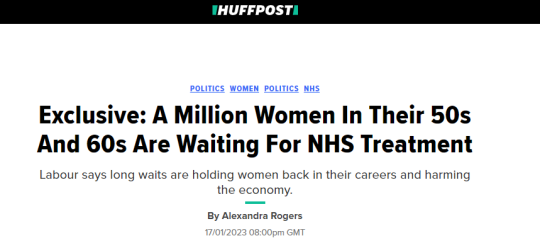 Women in their late 40s, 50s and 60s are in the prime of their lives but too many are being held back because their health needs and caring responsibilities are not being properly recognised. I believe that this harms our economy and women's opportunities.
The menopause is still not properly recognised, NHS waiting lists are unacceptably long, and more and more women face a daily struggle to hold down their job while caring for an elderly or disabled relative. We can't build a healthy economy without a healthy society. It's totally unacceptable that women going through the menopause have to see their GP again and again before they getting the help they need.
That's why Labour will champion the health and caring needs of women over 50. We will get them the diagnosis and treatment they need by training 7,500 more doctors and 10,000 more nurses and midwives a year, paid for by scrapping the non-dom tax status, and we will help them better balance work and family life through flexible working. Because women in their 50s and 60s shouldn't be forced to wait in pain or to quit work – they should be able to live their lives to the full.
You can read the article in Huffington Post in full here.