Articles
Alongside the work I have been doing on the Coronavirus Job Retention Scheme as part of the Treasury Select Committee, I have written to the Chancellor of the Exchequer, Rishi Sunak, about the need to deal with problems faced by those who have recently started a new job.
Under the scheme employers who are unable to maintain their workforce because of disruption caused by Covid 19 can "furlough" employees and apply for a grant to cover 80% of their normal wages. However, those who started after 28th February are not eligible and have been advised to approach their previous employer.
I have been approached by several constituents who fall into this category and have been refused help by their previous employer. I find this very concerning and have called for the scheme to be amended.
You can read my full letter here.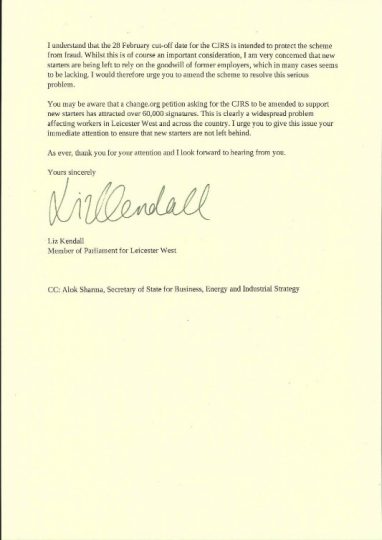 I was recently contacted by Educ8, an organisation which provides alternative education for secondary school pupils both nationally and in Leicester West. The organisation supports pupils who for a wide range of reasons thrive in a non-mainstream educational setting, or may have complex needs.
While the Government has asked schools to remain open to the most vulnerable children and the children of key workers, Educ8 had found difficulties in delivering this after the closure of their Leicester West venue.
Having raised the difficulties Educ8 was facing with Leicester City Council, a new venue will now be found in Leicester West meaning that Educ8 will be able to continue supporting its most vulnerable students, and children of key workers, in line with Government guidance on social distancing.
This is an extremely difficult time for everyone in our community but especially those who run or work for small businesses.
I welcome the actions the government has taken so far to help small businesses and will continue to push for more support for self-employed people.
I know lots of people across Leicester will want to support our brilliant local businesses, whilst following the government's instructions to stay at home.
Many of our fantastic local restaurants, cafes and pubs are adapting to the situation by offering new delivery services.
You can find a list of food and drink businesses now offering delivery here.
In the last week I have been contacted by several people who are interested in volunteering to help support those in their local area. This is fantastic and shows the real community spirit we have in Leicester.
Leicester City Council are working in partnership with Voluntary Action Leicestershire and food banks to organise a unified response.
Some examples of how you could help are:
Reaching out to people in the community and providing information and advice
Dog walking if people are unable to get out themselves
Providing a friendly phone call service to help people that may be isolated or lonely
Picking up shopping for those that can't do it easily themselves
Posting mail
If you are interested in volunteering to support your local community you can sign up here.